Calming Sedation Dentistry in Port Orange
It is estimated that as many as 75% of American adults experience some degree of dental-related anxiety with 10% being so fearful that they avoid visiting the dentist's office at all costs. Here at Water's Edge Dental, our team understands these feelings, but we also hate the idea of anyone missing out on the treatment they need to maintain a strong and healthy smile. That's why Dr. Bannan offers sedation dentistry here in Port Orange that can relax frazzled nerves and help frightened patients feel genuinely relaxed. If you're interested in taking advantage of one of these techniques during your next appointment, please give us a call.
Oral Conscious Sedation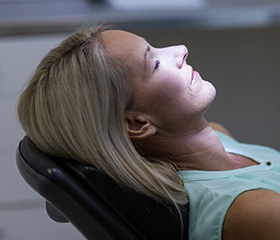 Oral conscious sedation comes in the form of medication that our office will prescribe. You will be provided with instructions on how much to take and when to take it before your appointment. It's important to arrange for a trusted escort who can bring you to our office and from it as well, as you will not be capable of safely driving. Once the effects start, you should feel deeply relaxed while remaining aware enough to respond to any questions or commands our team has for you.
Nitrous Oxide Sedation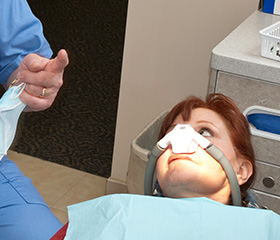 Nitrous oxide is a very mild form of sedation that is safe for all ages and ideal for patients who are experiencing low to moderate feelings of anxiety. Once you're settled in our treatment chair, a mask will be comfortably placed over your nose so that we can start administering the sedative in gas form. Patients should start calmer and happier after a few minutes of exposure – that's why it's also called "laughing gas!" The biggest benefit of choosing nitrous oxide as your sedation method is that the effects wear off almost immediately after we remove the mask. Our patients are free to return to work, go back to school, and even drive themselves without having to worry about arranging downtime or an escort.