Dental Implants in South Daytona
Out of all the oral problems a person can face in their lifetime, tooth loss is considered to be one of the most devastating. After all, it affects not only your self-image, but your oral health as well. Patients who leave gaps in their smile untreated for too long experience a higher risk of periodontal disease and additional tooth loss, and even simple activities like eating and talking can become more difficult. In fact, tooth loss is one of the leading reasons people of advancing years experience malnutrition; because they are missing teeth, they are unable to eat the foods that are an important part of a healthy diet.
Here at Water's Edge Dental, Dr. Sean Bannan takes this issue very seriously; that's why he offers several restorative options that can recreate your missing pearly whites in a comfortable and lifelike way, such as dentures and bridges. However, dental implants have become the true frontrunner in the tooth replacement race, thanks to their valuable health benefits, their stability, and their natural look. In fact, many patients who've received implants even forget that they're not natural teeth after a while! If you're ready to find out more, call to schedule a tooth replacement consultation with the skilled Water's Edge Dental team in South Daytona today. We'll review your treatment options and help you plan to recreate your flawless, natural smile.
What are Dental Implants?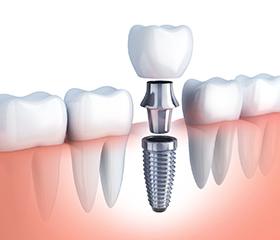 Dental implants in South Daytona consist of two crucial components. There's the personalized crown, which is the visible portion of the tooth; most tooth replacement options only provide this part to patients; a crown and bridge, for example, or partial and full dentures merely rest on top of your gums. However, dental implants take your treatment a step further by also offering a small, titanium post that serves as your missing tooth's new root. When your natural tooth dies, you lose that original root as well, and the jawbone begins to deteriorate. As this happens, your facial appearance may begin to alter and give you a more haggard and older look. Dental implants effectively solve this problem by providing a replacement that helps keep the structure of your face full and properly functioning.
How Does the Dental Implants Process Work?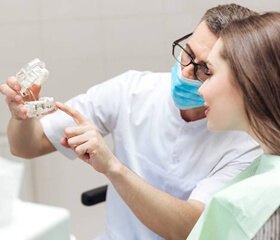 First, you'll need to undergo a surgical process, during which your new tooth "root" will be inserted into the empty socket. Once this has been completed, a period of healing will be necessary; during this time, your new root will organically merge with your jawbone, creating a steady foundation for your restoration. Dr. Bannan cautions against smoking if you want to have dental implants as this usually impedes the healing process.
Once we've determined that you're ready, you'll come to our South Daytona, FL office so that Dr. Sean Bannan can place your brand-new, beautiful crown on top of the post, completing your look and restoring much-needed form and function to your smile. With dental implants, South Daytona residents can look forward to a high success rate, and as long as they're cared for through oral hygiene and regular check-ups, they have a good chance of lasting for a lifetime. Better yet, their durability allows you to bite and chew just like normal, and their natural look will blend right in with your existing smile.
Benefits of Dental Implants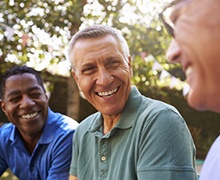 When you're making a big decision like whether or not to move forward with a dental implant supported tooth replacement plan, it's important to understand what makes these treatment options worth the investment. Some of the many benefits of tooth replacement using dental implants include the following:
Implants are the only self-supporting restoration option that replaces both the tooth roots and crowns to fully restore your smile.
Once in place, a dental implant supported replacement tooth or teeth can last two decades or longer. With proper care, you may be able to keep your newly restored smile for a lifetime.
After 20 years, dental implant supported tooth replacements have a success rate between 90 and 95%.
Because both the roots and crowns of missing teeth are replaced, implant supported replacement teeth function more like natural smiles. That means you can eat all of your favorite foods and speak and smile with confidence in every situation.
Implant supported replacement teeth look much more like healthy teeth, so you know you can smile confidently in every situation.
Traditional tooth replacement options need to be supported by surrounding teeth and oral structures, which can cause unnecessary damage and strain to oral health. Implant supported replacement teeth are fully self-supporting.
What is the Best Way to Replace a Missing Tooth?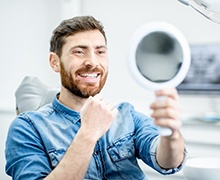 While we don't ever recommend a one size fits all solution for dental care, implant supported tooth replacement may be the exception that makes the rule. Unlike other restoration options, implant supported tooth replacement restores both the roots and the crowns of lost teeth. That means that these replacement teeth are the closest you can get to recreating natural, healthy smiles. They are fully self-supporting, so they have no adverse impact on your surrounding teeth and oral structures. In fact, the stimulus provided by the implant posts mimics that from tooth root structure, ensuring you maintain maximum jawbone density and gum tissue volume. For this reason, dental implants have quickly become the gold standard in tooth replacement and the solution we most often recommend for our patients.
Cost of Dental Implants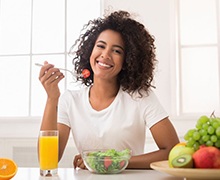 One of the other important factors you need to address during your implant tooth replacement plan is the cost of your dental implants. Implant supported tooth replacement plans are completed over the course of several phases of treatment. The initial phase is the surgical implantation of one or more implant posts. Then, you'll need to wait for several months as the implant posts fuse with your supportive structures. Once implants are firmly in place, we place your abutments. These are the connectors that anchor your replacement tooth or teeth. After placing the abutments, we capture impressions and design your replacement teeth. Finally, we semi-permanently attach your dental crown, bridge, or denture to the abutments, leaving you with a flawless smile. Depending on the number of implants used, treatment materials, and type of restoration, your implant supported tooth replacement plan can cost between $3,000 and $30,000 or more. During treatment planning, we'll help you to budget for the costs of each step of treatment, understand how to maximize insurance coverage, and assist you in accessing low and no interest financing options to meet your needs.