Dental Implants in South Daytona
Out of all the oral problems a person can face in their lifetime, tooth loss is considered to be one of the most devastating. After all, it affects not only your self-image, but your oral health as well. Patients who leave gaps in their smile untreated for too long experience a higher risk of periodontal disease and additional tooth loss, and even simple activities like eating and talking can become more difficult. In fact, tooth loss is one of the leading reasons people of advancing years experience malnutrition; because they are missing teeth, they are unable to eat the foods that are an important part of a healthy diet.
Here at Water's Edge Dental, Dr. Sean Bannan takes this issue very seriously; that's why he offers several restorative options that can recreate your missing pearly whites in a comfortable and lifelike way, such as dentures and bridges. However, dental implants have become the true frontrunner in the tooth replacement race, thanks to their valuable health benefits, their stability, and their natural look. In fact, many patients who've received implants even forget that they're not natural teeth after a while!
What are dental implants?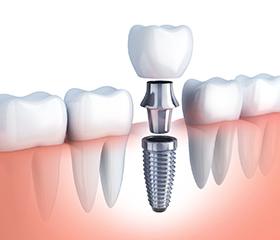 Dental implants in South Daytona consist of two crucial components. There's the personalized crown, which is the visible portion of the tooth; most tooth replacement options only provide this part to patients; a crown and bridge, for example, or partial and full dentures merely rest on top of your gums. However, dental implants take your treatment a step further by also offering a small, titanium post that serves as your missing tooth's new root. When your natural tooth dies, you lose that original root as well, and the jawbone begins to deteriorate. As this happens, your facial appearance may begin to alter and give you a more haggard and older look. Dental implants effectively solve this problem by providing a replacement that helps keep the structure of your face full and sturdy.
How does the dental implants process work?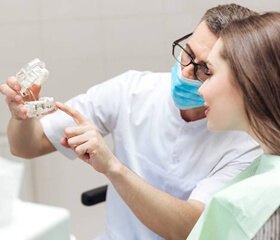 First, you'll need to undergo a surgical process, during which your new tooth "root" will be inserted into the empty socket. Once this has been completed, a period of healing will be necessary; during this time, your new root will organically merge with your jawbone, creating a steady foundation for your restoration. Dr. Bannan cautions against smoking if you want to have dental implants as this usually impedes the healing process.
Once we've determined that you're ready, you'll come to our South Daytona, FL office so that Dr. Sean Bannan can place your brand-new, beautiful crown on top of the post, completing your look and restoring much-needed form and function to your smile. With dental implants, 32119 residents can look forward to a high success rate, and as long as they're cared for through oral hygiene and regular check-ups, they have a good chance of lasting for a lifetime. Better yet, their durability allows you to bite and chew just like normal, and their natural look will blend right in with your existing smile.