Dental Implants – Port Orange, FL
The Long-Term Solution to Tooth Loss
Out of all the oral problems a person can face in their lifetime, tooth loss is considered to be one of the most devastating. After all, it affects not only your self-image, but your oral health as well. Patients who leave gaps in their smile untreated for too long experience a higher risk of gum disease and additional tooth loss, and even simple activities like eating and talking can become more difficult. In fact, tooth loss is one of the leading reasons why older individuals experience malnutrition. Since they are missing teeth, they are unable to eat the foods that are an important part of a healthy diet.
Here at Water's Edge Dental, Dr. Sean Bannan takes this issue very seriously. That's why he offers several restorative options that can recreate your missing pearly whites in a comfortable and lifelike way, such as dentures and bridges. However, dental implants have become the true frontrunner in the tooth replacement race, thanks to their valuable health benefits, their stability, and their natural look. In fact, many patients who've received dental implants even forget that they're not natural teeth after a while! If you're ready to find out more, call to schedule a tooth replacement consultation with the skilled Water's Edge Dental team today. We'll review your treatment options and help you rebuild your flawless, natural smile.
Why Choose Water's Edge Dental for Dental Implants?
Implants Placed & Restored In-House
Affordable, Flexible Financing Options Available
3D Cone Beam Technology for Precise Implant Planning
What Are Dental Implants?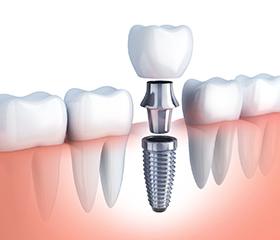 Dental implants in Port Orange consist of two crucial components. There's the personalized crown, which is the visible portion of the tooth. Keep in mind that most tooth replacement options only provide this component to patients. For example, fixed bridges and partial/full dentures only rest on top of your gums and do not go any further.
By contrast, dental implants take your treatment a step further by also offering a small, titanium post that serves as your missing tooth's new root. When your natural tooth is removed, you lose that original root as well, and the jawbone begins to deteriorate due to a lack of stimulation. As this happens, your facial appearance may begin to change, giving you a more haggard and older look. Dental implants effectively solve this problem by providing a replacement that helps keep the structure of your face full and properly functioning.
Benefits of Dental Implants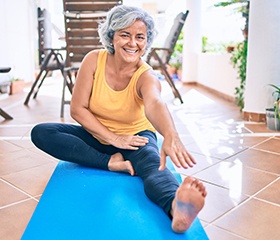 Dental implants in Port Orange offer countless unique benefits that distinguish them from traditional restorative procedures, which is why they're such a popular treatment among patients with missing teeth. Not only can they boost your confidence by filling in the gaps in your smile, but they also offer a wide array of day-to-day and functional advantages as well. Read below to learn more about what benefits you'll be able to enjoy when you choose dental implants.
Day-to-Day Benefits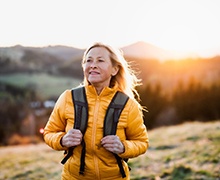 Easy Maintenance. Just like your natural teeth, maintaining your dental implants is simple. Just brush twice each day, floss, rinse your mouth daily with non-alcoholic mouthwash, and visit your implant dentist in Port Orange every six months for a checkup and cleaning.
Boosted Self-Confidence. Dental implants both look and feel completely natural, so many patients feel revived after their treatment, like they got a new lease on their smile. Not only is this a massive confidence-booster, but it also improves your mood and how you feel in social situations.
Speak & Eat Without Struggling. With traditional dentures, you may experience slipping and shifting when you chew your food or speak. Since your dentures will be secured to implants that are fused with your jawbone, you won't ever have to worry about this happening with implant dentures.
Health Benefits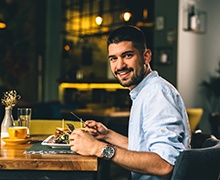 Jawbone Preservation. Just like the natural root structure of your teeth, your dental implants are fused with your jawbone. They provide it with much-needed blood flow and stimulation to prevent it from deteriorating.
Improve Your Overall Health. By replacing missing teeth, you'll eliminate hard-to-reach nooks and crannies of your mouth that trap plaque and food debris, reducing harmful oral bacteria accumulation. By reducing the chances of developing gum disease and other oral issues, you'll also be minimizing your risk of medical conditions associated with them.
Preserve Surrounding Teeth. If you have natural teeth that surround the gap in your smile, by replacing your missing teeth, you'll be able to preserve their alignment. If you don't restore the tooth, the other teeth will slowly drift out of place to fill the gap in your mouth.
Long-Term Benefits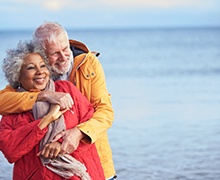 95% Treatment Success Rate. Dental implants have a 95 percent success rate, even after 10 years of placement! By choosing an implant dentist who's experienced and uses the latest technology, like Bannon, you'll be able to reap all of the benefits of this advanced procedure by minimizing your risk of complications.
Prevent Facial Sagging & Premature Aging. If you replace your teeth with traditional restorations, you'll notice that as the years go by, your cheeks will begin to look saggy. This is a result of jawbone deterioration. Dental implants can help prevent this sign of premature aging by preserving your bone structure.
Long, 35+ Year Lifespan. With a lifespan of 35+ years with the proper maintenance, you won't have to worry about frequently visiting your dentist in Port Orange for routine replacements and repairs to your traditional bridge or denture. Not only will this save you time, but it will also save you money!
Who Dental Implants Can Help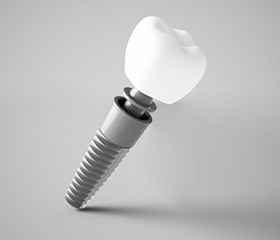 Dental implants are ideal for replacing multiple teeth at a time, not just individual teeth. No matter what circumstance you find yourself in or how severe your tooth loss might be, we're prepared to discuss your specific tooth replacement needs and ensure you can leave our office with a confident smile. Take a moment to look over the different methods in which our practice can help! If you have questions, please give us a call and we'll get you scheduled for a consultation.
Who is a Good Candidate for Dental Implants?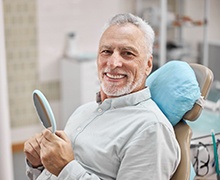 Advancements in dental implant treatment have made it possible for just about anyone with a fully developed mouth to receive them. However, there are certain prerequisites that should be met to ensure the most successful treatment possible.
For example, you should have good oral health. We will not perform dental implant surgery on patients who are currently in need of treatment for tooth decay or gum disease, the latter of which can actively harm the success of your dental implant. Furthermore, good overall health is essential, meaning you should be able to receive a minor oral surgery with confidence. If your jawbone is not thick enough to receive dental implants, we may recommend a bone graft as well to expand its volume for proper integration.
Missing One Tooth
Those missing single teeth only require a single titanium post and one porcelain crown. We use porcelain not just for its lifelike aesthetics, but incredible durability. These are the same dental crowns that would be used to cover teeth, instead they have been slightly modified to fit onto a dental implant post exactly. Once attached, no one but you and our office will know you had it placed. In fact, you may even find it difficult to remember which tooth you had replaced after enough years have passed!
Missing Multiple Teeth
If you're missing more than one tooth, a fixed bridge can be customized to fit on top of two implant posts. Instead of needing to buff down existing tooth enamel for a bridge to fit on top of, a pair of implants can simply hold the three- or four-crown bridge. This option is especially ideal for those who do not want to make modifications to their natural teeth. It's also a longer-lasting solution compared to traditional bridges, which usually need to be replaced after about 10 years.
Missing All Teeth
Those who are missing all teeth can benefit from an implant denture. With just four to six implants, you can support either a partial or full denture, depending on your needs. They can also be designed to be fixed or removable if you'd prefer one over the other. Following the placement of your implant denture, you won't need to worry about those awkward situations where your denture shifts out of place while eating or speaking since they'll have proper anchors to rely on instead.
Understanding the Cost of Dental Implants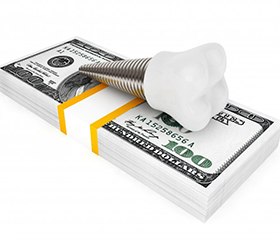 As the most predictable and reliable solution to replace your missing teeth, you will make a long-term investment in your oral health by getting dental implants. While you are excited about regaining a complete smile, we understand that you are concerned about the cost of dental implants in Port Orange. Although they can cost more upfront than traditional options, like dentures, they will eventually pay for themselves. When determining how much you can expect to pay, there are several factors that will influence the cost.
How Much Do Dental Implants Cost?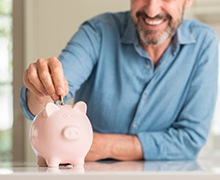 There is no set price tag for dental implants. The amount you will pay is based off your individual treatment plan. As a result, the best way to get an estimate for your new smile is to schedule a consultation for dental implants in Port Orange.
During your appointment, we will evaluate your oral and general health to ensure that you are a candidate for the procedure. In addition, we will discuss the various aspects of your treatment plan and how much you can expect to pay. Depending on your individual needs, there are several things that will influence the cost, such as:
How many teeth need to be replaced
Materials used
Sedation and anesthesia
Imaging or specialist fees
Additional procedures, like bone grafting
Dental insurance
How Can I Pay for Dental Implants?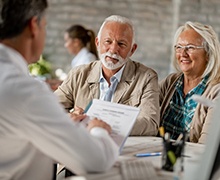 To help keep your new smile within your budget, there are several things that can help to lower the cost, such as your dental coverage. Although most policies do not cover the cost of the procedure in full, it may pay for certain aspects of it, such as tooth extractions or dental crowns.
If your tooth was lost due to an injury or another factor, your insurance may pay to have it replaced. To help you maximize the value of your policy, we will work on your behalf with your insurance company to look for any cost-saving opportunities.
In addition to your dental insurance, we also accept several different payment options, such as check, cash, and major credit cards. We also offer third-party financing with CareCredit. Based on your credit history, you will be approved for a line of financing to pay for the procedure. You will then repay the amount in monthly installments that accommodate your budget.
Maintaining & Caring for Your Dental Implants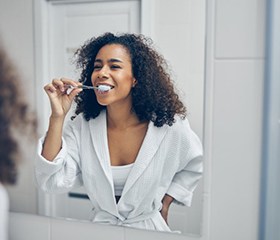 When it comes to tooth replacements, dental implants stand out above the rest. They're essentially the next best thing to your real teeth. In fact, you can even care for them in pretty much the same way. After Dr. Bannan places the final restoration on top of your implants, he'll provide you with personalized advice for excellent dental implant care in Port Orange. Until then, feel free to read through these five easy tips for making your dental implants last!
Prioritize Oral Hygiene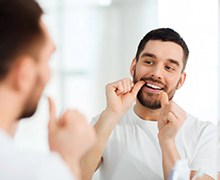 Just like regular teeth, dental implants require twice-a-day brushing and daily flossing. These habits clear away leftover food particles and plaque that, if allowed to remain, could contribute to decay in your natural teeth. Rinsing with an antibacterial mouthwash every day is a great way to ward off dangerous bacteria that could cause gum disease. If your gums become infected, your implants (as well as your natural teeth) could fall out. So, healthy gums are critical to the long-term success of dental implants in Port Orange.
Stick to a Healthy Diet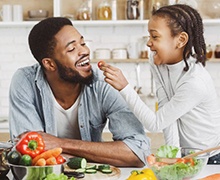 Dental implants allow you to eat virtually anything you want, but you should still try to maintain a balanced diet. Consuming too much sugar and starch (which breaks down into sugar in the mouth) gives dangerous oral bacteria ample opportunity to create acids more quickly. These acids erode tooth enamel and inflame gum tissue, causing cavities and gum disease, respectively. To ensure your dental implants have a healthy foundation, remember that when it comes to sugary sweets and acidic sodas, moderation is key. Be sure to get plenty of calcium and other essential vitamins by maintaining a diet rich in fruits, vegetables, dairy products, and lean proteins.
Quit Harmful Habits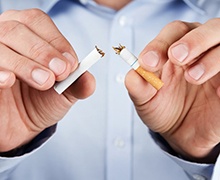 Certain bad habits can be just as harmful to dental implants as they are to real teeth. For example, smoking (or any type of tobacco use) has been shown to double or even triple the risk of gum disease, which is the leading cause of tooth loss in adults. Not only that, but tobacco can prevent your implants from successfully integrating with your jawbone, resulting in dental implant failure. Other harmful habits you should avoid include biting your fingernails, chewing on pens or pencils, and using your teeth to open bottles or packaging.
Protect Your Pearly Whites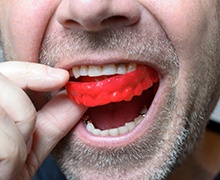 If you're an athlete, then you understand how important it is to wear the right protective gear during games and practices. Just as you would wear a helmet to shield your head, you should also wear a mouthguard to protect your teeth and implants from injury. In a similar vein, you'll want to wear a nightguard if you chronically grind your teeth while you sleep. That way, you'll avoid long-term wear and tear on your smile.
Schedule Regular Dental Checkups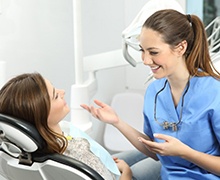 Routine preventive dental visits are still important even if you've had all of your natural teeth replaced with implants. At these appointments, your implant dentist in Port Orange can make sure your implants and restorations are still in good condition. If we detect any problems, we can administer treatment right away and minimize the risk of a dental emergency later on.
Dental Implant Post-Op Instructions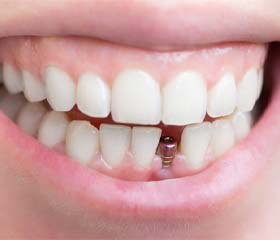 If you've never had oral surgery before, having your dental implants placed may seem daunting. However, we're here to assure you that you have nothing to worry about. Unlike other practices that need to refer their patients to an outside specialist, we complete every step of the dental implant treatment process right here in our office. You'll work with the same friendly and experienced team from start to finish, and we'll be happy to answer all of your questions and walk you through every step. When it comes to recovering from your dental implant surgery, we'll go over in detail exactly what to expect when you visit us, but in the meantime, read on to learn the basics of dental implant post-op care.
What to Do Directly After Dental Implant Surgery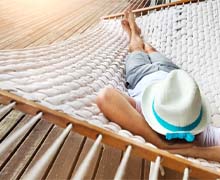 While dental implant surgery is minor, you should still plan on resting for the rest of the day afterward. Most patients feel ready to go back to work, school, and other daily activities the next day, you may want to plan on taking several days off to fully recuperate. As you heal from your surgery, it's essential that you care for your smile properly by:
Not drinking through a straw or spitting forcefully
Getting plenty of rest and refraining from physically demanding tasks
Practicing excellent oral hygiene and staying hydrated
Taking prescription and over-the-counter pain relievers as directed
Using ice packs or cold compresses as needed
Common Side Effects After Dental Implant Surgery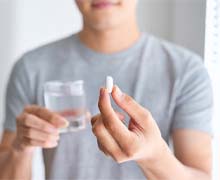 After your dental implant surgery, you can expect some slight, intermittent bleeding from the surgical site for a day or so. Soreness is also to be expected, but it should be easily manageable with pain relievers and ice packs. If your discomfort doesn't go away or gets worse, don't hesitate to give us a call right away. Finally, you can expect swelling around the surgical site to last for a week or longer.
Your Diet After Dental Implant Surgery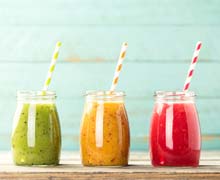 To protect the surgical site after your surgery, it's essential to stick to a diet of soft, nutritious foods for a week or more. This could include items like:
Ice cream, frozen yogurt, and popsicles
Pudding, applesauce, or scrambled eggs
Yogurt (with no granola) or cottage cheese
Mashed potatoes or pasta
Soup that isn't too hot
Health & Oral Hygiene After Dental Implant Surgery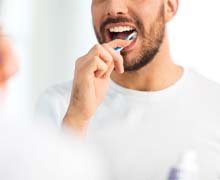 To prevent dental implant failure, it's important that you keep the surgical site infection-free. This is best done by practicing thorough and cautious oral hygiene. Continue to brush your teeth for two minutes twice a day and floss daily, taking extra care not to irritate the surgical site or cause bleeding. Rinsing with mouthwash regularly can help as well, but make sure it's a non-alcoholic mouthwash.
What to Do After Your New Teeth Are Attached
After you've healed from your dental implant surgery and completed osseointegration, it will be time to return for the final step of the process. Having your new teeth attached shouldn't cause you any discomfort, and you'll be all set to go out and show off your new smile right away! Some sensitivity or soreness in the gums is normal, but it should be easily manageable and fade within a day or so.
Dental Implant Failure & Salvage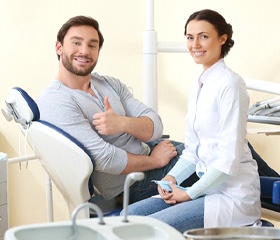 Dental implants are successful in the vast majority of cases. However, there is always the small chance that dental implant failure will occur. If you ever suspect that something is amiss with your restored smile, get in touch with us right away. We will evaluate the problem, strive to pinpoint its cause, and recommend a treatment plan. Our goal is to help you continue enjoying your dental implants for a lifetime.
Dental Implant FAQs
Still unsure whether dental implants are the right solution for you? It's perfectly natural to feel that way; we can go over the entire process step-by-step during your consultation. In the meantime, we have included the answers to some frequently asked dental implant questions to bring you peace of mind.
Are Dental Implants Safe?
Thanks to years of clinical research and experimentation, dental implants are proven to be a safe and effective solution for tooth loss as long as they are placed by a licensed professional. Studies have shown them to have a success rate as high as 98 percent, even after 10 years of use. However, there are certain behaviors that can dramatically increase the risk of complications during the healing stage and after placement. Before your treatment, Dr. Sean Bannan will make sure that your oral health is in order and that you are eligible to receive implants. The more thorough the planning stage is, the more successful your treatment will be.
Can Dental Implants Fail?
Implants can fail if there is not enough bone present for the post to adhere to. Oral infections inside your bone and soft tissue can also make it extremely difficult for the implant to heal properly. If you use tobacco products, they can seriously affect your mouth and body's ability to heal. For this reason, Dr. Bannan strongly encourages patients to discontinue their tobacco use as well as have all oral health issues handled prior to surgery. Most patients only experience mild to moderate amounts of post-operative discomfort, which you can receive prescription medication for if needed.
Are Dental Implants Right for Me?
Dental implants are ideal for most patients with missing teeth, even if you don't have sufficient bone volume at the start of treatment. If inadequate bone is present, then a bone grafting procedure, which is meant to expand the existing amount of present bone tissue, may be needed for implant preparation. With that said, if you have relatively good oral health, no gum disease, and sufficient overall health (which is common for any type of surgery), implants are likely an ideal solution for your tooth loss.
How Long Does It Take to Get Dental Implants?
The length of your treatment will vary depending on a few different factors. Those who choose All-on-4 implants can receive their restoration relatively quickly, while more traditional single or multi-implant treatments require several months of healing before a permanent restoration can be provided. If you need to have preparatory treatments done, this will extend the length of treatment as well. On average, patients need to go through four to six months of healing time prior to permanent tooth replacement.
The best way to find an exact timeframe is to schedule an implant consultation with Dr. Bannan.
Can Dental Implants Help Denture Wearers?
Absolutely! Dental implants are extremely effective at making a denture more stable and appear more natural. By placing four to six implants throughout the jaw, we can replace an entire arch of teeth and reduce bone deterioration in the process. These implant dentures can be designed to be fixed or removable, depending on your preference.
Furthermore, dental implants in Port Orange are longer-lasting than a denture, which typically needs to be replaced every five to seven years on average (or relined every year or two to ensure a comfortable fit.)