Dental Bonding – Port Orange, FL
Quick and Easy Cosmetic Solution
At Water's Edge Dental, we are pleased to provide dental bonding in Port Orange to patients looking for a quick and easy way to hide minor smile imperfections. Even the smallest flaws can keep you from embracing new opportunities and meeting up with friends and family. But with dental bonding, we can easily cover these areas to create a fully restored, beautiful aesthetic that captures the attention of others and boosts your confidence. If you're interested in learning more about this unique cosmetic solution, contact our office today to schedule an appointment.
What is Dental Bonding?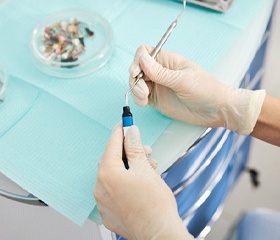 Dental bonding consists of tooth-colored composite resin that is malleable and easy to apply. Unlike its counterpart, dental veneers, it is not a permanent solution but can last many years with proper care and maintenance. Not to mention, dental bonding is also highly affordable and allows you to keep more of your natural tooth structure.
The Dental Bonding Process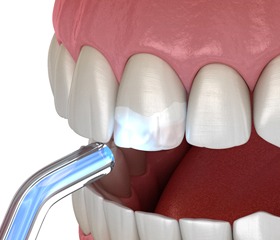 The process for receiving dental bonding is quite simple. Patients who are interested in this service can expect the following:
Schedule a consultation with Dr. Bannan or Dr. Penland. During this visit, they will determine if you are eligible to receive dental bonding and how much you can expect to pay for this method of treatment.
Our team will use a shade guide to identify the appropriate color for the composite resin before lightly etching the front surface of your tooth (teeth).
The composite resin will be applied directly to the tooth enamel. Our team will then shape and sculpt it into place to effectively hide the imperfection and ensure it lays flat.
A curing light is used to harden the resin and ensure it blends in beautifully with the rest of your smile.
After a final polish, you will be free to leave and start enjoying your new and improved smile.
Dental Bonding vs. Invisalign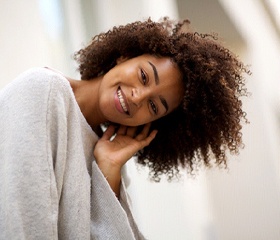 If you are like some individuals, you may wonder if you can opt for dental bonding when it comes to hiding minor alignment issues or gaps. Much of this is dependent upon the severity and whether the imperfection is causing problems with your oral health. If the gap is quite large or the alignment is causing a breakdown of tooth enamel or difficulty eating, speaking, or sleeping, you'll likely be required to undergo treatment with Invisalign or even traditional braces.
However, if our team deems your gap or alignment issue to be purely cosmetic, you can move forward with dental bonding.
What Are the Benefits of Dental Bonding?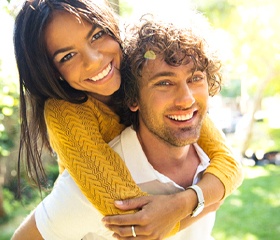 We know there are many cosmetic solutions you can choose from but opting for dental bonding will allow you to enjoy the following benefits:
A quick way to improve the aesthetics of your smile because it only requires one visit to our dental office
An affordable way to boost your appearance
You get to keep more of your natural tooth enamel
It is a versatile solution that can address many of the most common flaws (i.e., chips, cracks, small gaps, stains, discoloration)
It can last several years with proper maintenance