Porcelain Veneers in Port Orange
Porcelain veneers can erase any number of cosmetic imperfections. They're thin sheets of dental porcelain that are affixed to the surface of the teeth that show when you smile. Dr. Bannan remakes smiles with porcelain veneers in Port Orange.
What Do Porcelain Veneers Fix?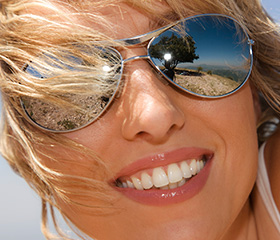 Virtually any cosmetic imperfection in the front teeth can be resolved with porcelain veneers. From chips and cracks to stains and teeth that appear too short or pointy, veneers provide an almost instant smile do-over. But remember that veneers are reserved for making cosmetic improvements to the front of the smile. For teeth that are worn, weak, decayed, or otherwise flawed, a dental crown will likely be the best option. Your dentist can help you understand which is best for you.
Most people who wish to make big improvements to the appearance of their front teeth are suitable candidates for porcelain veneers. Patients should be over the age of 18 and in good oral and overall health to undergo the procedure. First, you'll have a checkup and cleaning with the team at Water's Edge Dental to prepare your teeth and gums for porcelain veneers.
Multiple Benefits of Porcelain Veneers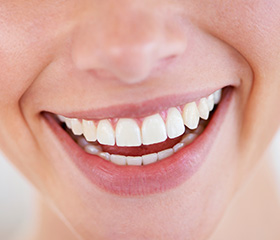 The advantages of choosing porcelain veneers are numerous. First, any number of flaws are fixed in one treatment, saving you time, stress, and multiple visits to the dentist. Porcelain veneers are also a highly natural-looking solution that produces dramatic results. Cared for properly, veneers can last for years and years to come. And the benefits of a confident, beautiful, long-lasting smile? Those are endless.
What's the Procedure for Porcelain Veneers?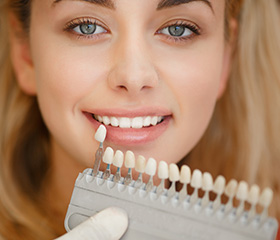 Veneers are completed over two to three visits to our office. First, you and Dr. Bannan will thoroughly discuss your smile goals to help you understand what's possible with your treatment. Teeth look the most natural when they match the whites of your eyes -- but decisions on the shade, shape, and overall appearance of your veneers are left up to you. Based on your desires, Dr. Bannan will put together your treatment plan and then prepare your teeth for the new veneers.
Tooth preparation includes removing a small amount of enamel from the surface of each tooth. Reshaping helps the veneers lie flat with the rest of the teeth. You leave the first appointment with temporary veneers.
In the time between visits, your veneers are expertly crafted in a dental lab. You will return to our office for their final placement after a couple of weeks. Dr. Bannan will check to make sure the veneers look, fit, and function just like they should. Then he'll give you a preview of your new smile. Once you've given your final OK, the veneers are bonded onto the surface of the teeth.
Caring for Porcelain Veneers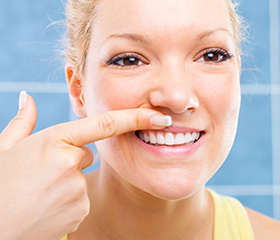 The maintenance for dental veneers simply requires brushing, flossing, and regular visits to the dentist's office. Use of a regular, non-abrasive toothpaste is sufficient for cleaning veneers. Dental porcelain is highly resistant to stains, so teeth whitening products are not necessary with veneers. People who grind their teeth at night or play contact sports should invest in a custom-fit mouthguard to protect the veneers from heavy impact.
Are you interested in giving your smile a makeover with dental veneers? Contact Water's Edge Dental to schedule an appointment with Dr. Bannan, your dentist in Port Orange, today.
Veneer FAQs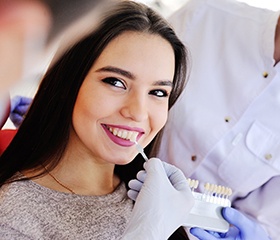 Whether you've been interested in veneers for years or only recently started considering them for transforming your smile, it's natural to have questions. Are there any dietary restrictions? Can you still drink coffee? What happens to the teeth underneath? Don't worry – our team is here to answer any questions you may have, so you can feel confident moving forward. Keep reading to learn the answers to some of the most frequently asked questions about veneers in Port Orange.
What Happens to the Teeth Under Veneers?
In the "prep" process, our skilled cosmetic dentist in Port Orange will carefully remove a small portion of enamel. This step is crucial in ensuring the final result looks absolutely flawless. But what happens once the veneers are adhered? Since they are bonded to the front-facing portion of your teeth, it is still incredibly important to implement a solid oral hygiene routine. Brushing twice a day, flossing daily, and getting a dental checkup and cleaning every six months will help keep them decay-free throughout the years.
Is There Anything I Can't Eat with Veneers?
While your permanent veneers are being crafted in the lab, you'll be asked to avoid sticky foods, like caramel. Once your final ones have been securely attached to your teeth, you'll be able to enjoy a wide range of foods once more. Just remember – like your natural teeth, your veneers can get damaged or stained from eating hard foods, like ice. It's also worth noting that other unhealthy dental habits, like drinking alcohol in excess, can lead to complications, including the weakening of the bonding material that holds your veneer securely in place.
Can I Drink Coffee with Veneers?
Yes, but it's best to use a straw. While porcelain is stain-resistant, it is possible for dark-colored beverages to dull their appearance over time. Plus, even if the veneer itself isn't porous, your natural teeth still are, so drinking coffee in excess can cause your smile to look uneven. For these reasons, it's a good idea to indulge sparingly and, when you do, use a straw.
How Many Veneers Will I Need?
Ultimately, the answer to this question depends on your dental needs and smile goals. For example, if you only have one chipped or misshaped tooth, then you may only need one veneer. In many cases, however, 6-12 veneers are needed to truly achieve that Hollywood smile. Don't worry – your cosmetic dentist will review all of the options (as well as their recommendations) during your initial consultation.
Do Veneers Give You a Lisp?
Fortunately, veneers aren't bulky or obtrusive in any way. Additionally, a portion of your enamel is removed so they will lay flush with the surrounding teeth. So, you likely won't experience a prolonged adjustment period once they are in place. If you do experience a slight lisp, it will be short-term, and you can speed up the adjustment process by following the advice: practice, practice, practice!