Invisalign® Clear Braces in Port Orange
When asked to think about orthodontics, you probably picture painful wires, colorful brackets, and a mouthful of unsightly metal. Kids in middle school and high school can usually deal with the mild embarrassment of wearing traditional braces so that they can achieve straight teeth they can enjoy as adults, but for older people who may have missed the boat at that young age, it can feel like it's too late to pursue the dream of a perfectly uniform smile. That's where the team at Water's Edge Dental in Port Orange, FL comes in! With the help of Invisalign as a cosmetic dentistry option, we can create beautiful changes for your smile in a way that doesn't sacrifice your self-image in the process.
How does Invisalign work?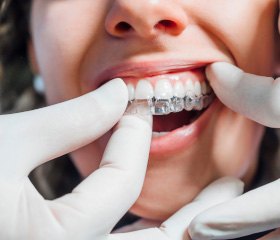 After sending off the necessary information to the Invisalign lab, our office will receive a clear, customized set of aligners that will comfortably fit your unique smile. Each set of aligners represents a different stage of your teeth as they slowly move into their ideal alignment. All you need to do as our patient is wear each one for the appropriate amount of time before switching to the next one in the set. Additionally, you'll need to attend brief check-ups with Dr. Sean Bannan every four to six weeks so that he can keep an eye on your progress and confirm everything is going smoothly.
Invisalign offers patients several valuable benefits when compared to traditional braces, including:
Like the name implies, Invisalign aligners are virtually invisible, meaning that you can undergo treatment without feeling constantly concerned about what your friends or coworkers are thinking. Instead, all they'll see is your straighter smile!
The aligners are removable, so there's no need to worry about food getting stuck or areas of your mouth being too hard to floss. Instead, your diet and oral hygiene routine can remain completely unchanged. It's even okay to take out the aligner for an hour or so if you're at an event where you really want to look your best. Just remember to put it back in when you're finished.
There are no painful wires or uncomfortable brackets to worry about – only smooth, comfortable plastic that fits well over your teeth.
In most cases, Invisalign treatment will last anywhere from 12 to 18 months, which is a significant improvement over the multiple years traditional braces can sometimes require to be fully effective.
Contact Water's Edge Dental today to schedule an appointment, or if you have any questions. We're dedicated to providing patients of all ages with dental care that's both comfortable and high-quality! Located in Port Orange, FL, we also serve the areas of Port Orange, Daytona Beach, Holly Hill, Edgewater, Ormond Beach, and beyond.