Dentures in Port Orange
Dentures have been the tried-and-true method for replacing lost teeth for many years. Evidence shows even the ancient Egyptians wore them. Today, restorative dentistry has evolved considerably to include more sophisticated options, such as bridges and dental implants, but some patients still prefer the benefits dentures and partial dentures have to offer, such as affordability, ease, and treatment speed. Here at Water's Edge Dental in Port Orange, we can create specialty dentures for your unique mouth that will replace your missing teeth and restore much-needed form and function to your smile.
Dentures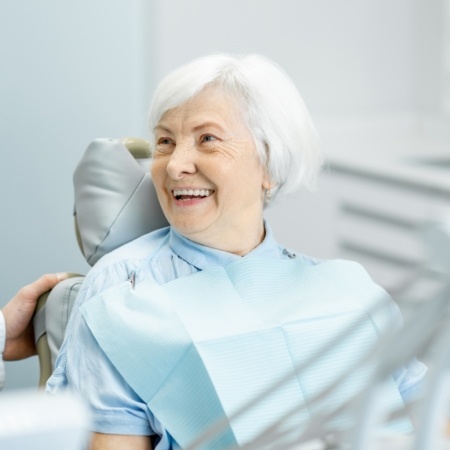 Full dentures are meant to replace either your entire bottom row of teeth or upper row, and they're designed to fit comfortably inside each patient's unique mouth. They stay in place with the help of natural suction; in some cases, patients may also find that a little dental adhesive adds additional support and stability. Full dentures are removable as well, meaning that they can be taken out while sleeping or when brushing or flossing in order to maximize comfort.
Partial Dentures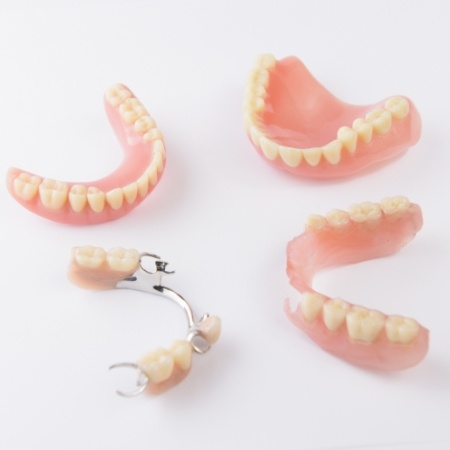 Partial dentures work a little differently than full dentures. Instead of consisting of a full set of false teeth, Dr. Sean Bannan takes into account your existing teeth and the gaps that need to be filled when designing your customized restoration. Thus, your partial denture is somewhat similar to a puzzle piece, in that it slides snugly over the open areas of your smile. Partial dentures are attached to your mouth with the help of clips or brackets. Although they strongly resemble dental bridges, they are different in that they can be removed just like full dentures.
Patients may choose to pursue full or partial dentures over dental implants for several reasons. Some patients are not viable candidates for dental implants; others may find the cost too prohibitive. The dental implants process, while transformative, can also be quite lengthy, especially if bone grafts are needed. Dentures, on the other hand, can be created over a much shorter turnaround time, which may be ideal for patients who are seeking quick relief for tooth loss. Other patients like that they're removable, which makes cleaning them a much easier job. At Water's Edge Dental, you can attend a free consultation with Dr. Bannan so that you can discuss your needs with him and decide together which tooth replacement solution you feel would best work for your unique situation. Your satisfaction is our team's top priority!
Learn More About Partial Dentures
Contact Water's Edge Dental today to schedule an appointment. We can't wait to give you a reason to smile! Located in Port Orange, FL, we also serve the areas of Daytona Beach, Port Orange, Holly Hill, Ormond Beach, Edgewater, and beyond.
Understanding the Cost of Dentures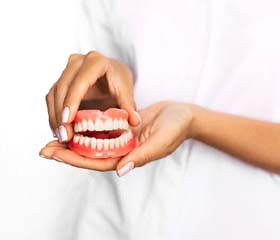 If you're curious about the cost of dentures in Port Orange, you're in the right place. For any specific questions, please don't hesitate to contact our friendly front desk team. Until then, we've included some of the most important factors that influence the price of dentures below. Read on to get the information you need and learn more about what to expect!
Factors that Affect the Cost of Dentures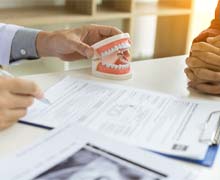 There are three major factors that contribute to the total price of your dentures:
Preparation: Before dentures can be worn, you may need preliminary treatments like gum disease therapy or tooth extractions. These add to your total cost but they're vital in order to have a healthy, comfortable smile.
Base material: The type of acrylic used will also impact your cost. We custom-make dentures so the gum-colored base matches the rest of your smile.
Replacement teeth: The artificial teeth attached to your denture can be made of acrylic or porcelain. Our dentures are designed to be sturdy and lifelike – our denture dentist in Port Orange will always recommend the best materials for a durable, healthy smile.
Are Implant Dentures More Expensive?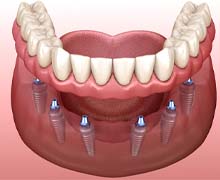 Yes, implant dentures are more expensive than traditional ones. However, they are well worth the investment. Implant dentures look, feel, and function just like natural teeth, making them easy to use and care for. Additionally, implant dentures can actually pay for themselves by helping you avoid replacements down the road – dental implants can last for over 30 years with proper care. Plus, they stimulate your jawbone to keep it full and strong, allowing you to maintain natural teeth while also giving you a more youthful facial appearance.
Does Dental Insurance Cover Dentures?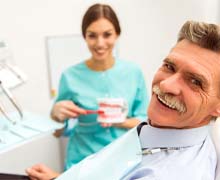 Yes! Dentures are considered a major procedure, which is why they usually get around 50% coverage from the average dental insurance provider. However, no two plans are the same so you should always check with your insurance before making a commitment. We are happy to communicate directly with your provider to help you save money and maximize your benefits. This is a great option if you find dealing with your insurance to be a hassle.
Other Options for Making Dentures Affordable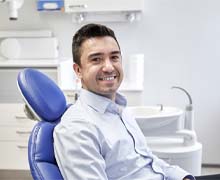 If you don't have insurance coverage, there's no need to worry! At Water's Edge Dental, we are committed to making dentures in Port Orange affordable for all budgets. We offer savings with patient loyalty through Illumisure benefit plans. With this option, you can enjoy discounted dentistry without the headaches, deductibles, and confusion of traditional insurance. We also partner with CareCredit to provide low to no interest financing. With this solution, simply choose the monthly payment plan that fits your budget. We can't wait to help make dentures affordable. Please don't hesitate to contact our office and schedule a consultation.