Dental Crowns – Port Orange, FL
Restoring the Strength & Function of Damaged Teeth
Hearing that you need a dental crown in Port Orange can be discouraging, because it means that your smile won't be completely natural. However, at Water's Edge Dental, we offer natural-looking, durable dental crowns that will keep your smile functioning and looking great. Dental crowns are one of the most common dental treatment because it's versatile and helps protect and maintain natural teeth. Dr. Sean Bannan strives to help his patients preserve and maintain their oral health, which is why he always attempts to protect and save damaged teeth from further harm.
What are Dental Crowns?
Dental crowns are sometimes referred to as "caps" because they fit over the visible portion of your natural tooth to help strengthen and protect it. They're incredibly versatile restorations and can be used to help replace missing teeth or fix a variety of oral health problems. They act to restore the shape, size, and structure of damaged teeth so you can eat and speak more comfortably.
Why do You Need a Dental Crown?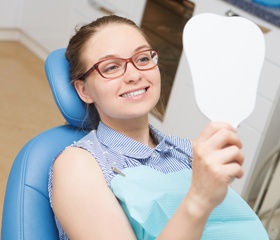 Many patients aren't aware of how many different oral issues dental crowns can remedy. Dr. Bannan often recommends dental crowns to patients who face the following problems:
Tooth Decay: If a dental filling isn't strong enough to restore and repair a decayed tooth, a crown will be placed over it for added protection.
Dental Trauma: For teeth that are severely broken or cracked, a dental crown can be placed over the top of them to restore their strength and eliminate any sensitivity.
Root Canal Therapy: After the infected pulp of a tooth has been removed from the inner chamber via root canal therapy, Dr. Bannan will top it off with a customized crown for extra support and protection.
Fixed Bridges: Crowns can be used to replace missing teeth by anchoring fixed bridges in place.
The Process of Getting a Crown
When you get a dental crown in Port Orange, it typically takes place over the course of two appointments and a few steps. Here's what you can expect from the procedure:
Before your crown can be made or placed, we will prepare your natural tooth by removing a small portion of the outer layer so the restoration can seamlessly fit over the top of it and integrate with the rest of your smile.
We'll take impressions of your tooth to send to our dental laboratory, who will make your permanent crown.
So you don't have to walk around with your prepared tooth, we'll place a temporary crown until your permanent one arrives at our office.
Once we receive your crown from our dental laboratory, we'll permanently secure it to your natural tooth and make any final adjustment.
If you have any questions about getting a dental crown, be sure to contact our office. We'll be more than happy to schedule a consultation so we can conduct a thorough examination of your mouth and walk you through the process.