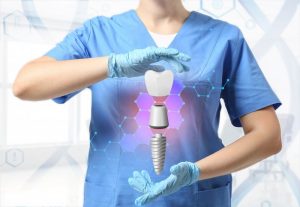 Extensive tooth loss can affect more than just your appearance – your quality of life can also take a hit. Fortunately, there are many ways you can replace the gaps in your smile. Dental implants are considered the gold standard of tooth replacement because they can improve your appearance and restore dental function. Although various materials are used to craft dental implants, there are reasons why titanium is the most popular. Read on as your implant dentist explains why this material is used and the incredible benefits of titanium dental implants in Port Orange.
Why Utilize Titanium for Dental Implants?
A Swedish physician named Dr. Per-Ingvar Branemark was researching rabbits in the 1950s that had titanium cylinders placed near their leg bones. After some time, he realized the titanium cylinders had fused with the surrounding bone tissue and were difficult to remove. Dr. Branemark called the process "osseointegration," which in this case refers to the fusion of bone and titanium.
Titanium is incredibly strong, retaining as much strength as steel. However, it's also exceptionally lighter in weight, making it the ideal material for surgical implants. After a few years of research and testing, Dr. Branemark placed the first successful titanium dental implant in 1965.
What Are the Benefits of Titanium Dental Implants?
Titanium is the most popular material used for dental implants because:
Long-Lasting Results
Thanks to the strength of titanium, patients can look forward to long-term success. On average, this tooth-replacement solution can last over 30 years – sometimes even a lifetime! Of course, their exact lifespan can vary depending on the patient's health and lifestyle. Practicing good oral hygiene, visiting your dentist regularly, and avoiding bad habits (i.e., smoking, chewing your fingernails, using your teeth as tools) can help extend the longevity of your implants.
Durability
Another benefit of titanium dental implants is their durability. Once they've fused with surrounding bone tissue, they have a low risk of breaking or wearing down. Dental implants are designed to replace missing tooth roots, meaning they act much like the bone structure when in place. Because of this, patients don't have to worry about their implants getting damaged from chewing or biting.
High Success Rate
Since titanium integrates with the jawbone, it allows dental implants to function similarly to natural tooth roots. As a result, titanium dental implants have a very good track record of success. Since it's the primary material used for implants, the current success rate of 98 percent is backed up by decades of reliability.
In the end, the best way to find out if titanium dental implants in Port Orange are right for you is to visit your dentist for a consultation. They'll explain the risks, benefits, and associated costs with treatment to help you make the right decision for your smile!
About the Author
Dr. Sean Bannan earned his dental doctorate from the University of Michigan. He's a member of the American Dental Association and the Academy of General Dentistry. If you are interested in dental implants, he can perform the entire treatment at his office location, 3D cone beam technology is utilized for precise planning, and flexible financing is available. Schedule a consultation on his website or call (386) 761-5883.