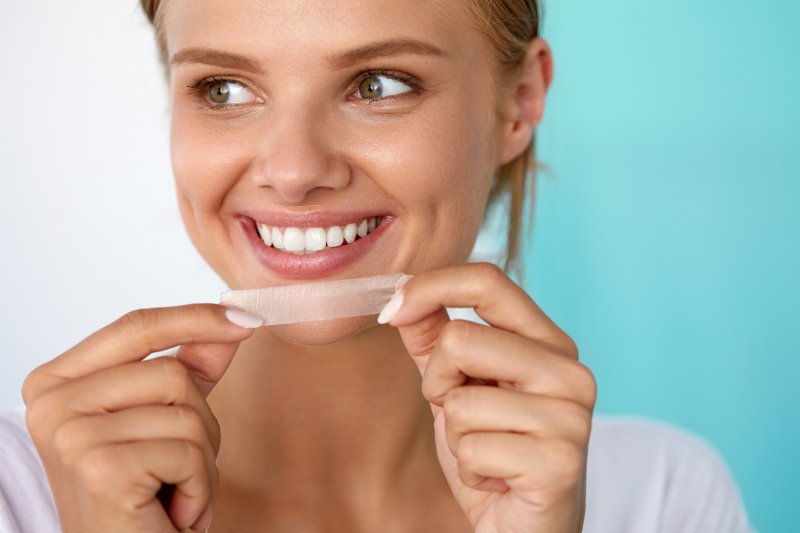 Who doesn't want a bright set of pearly whites? If you're eager to achieve your desired level of whiteness, you might be considering teeth whitening. After all, it's a solution that claims to give you your dream look in no time! While doing your research, you may quickly realize that over-the-counter teeth whitening products are the most cost-effective option – but do they actually work? Read along for the answer!
Are Over-the-Counter Whitening Treatments Effective?
Unfortunately, over-the-counter teeth whitening products aren't very effective when it comes to brightening your grin. They can actually do more harm than good! Let's take a closer look at the different ways they can wreak havoc on your smile:
Harms Gums: OTC teeth whitening kits usually contain peroxides that may cause severe damage to your gumline. Whitening strips and gel trays are guilty of causing unnecessary contact with your gum tissue.
Damages Enamel: The enamel is a protective layer on the outside of your teeth. Since OTC products typically contain bicarbonate and hydrogen peroxide, they can lead to enamel erosion when used incorrectly. Over time, this will expose the yellow dentin underneath the enamel, causing pain, sensitivity, and further discoloration.
Aggravates Oral Health Problems: You must address any existing dental issues before using OTC teeth whitening products. Otherwise, they can make these problems much worse and even more painful. For instance, a bleaching agent can seep into a deep cavity and travel to the root of the tooth, causing you to need a root canal.
The Best Way to Whiten Your Smile
Don't risk your smile for little-to-no results. Instead, turn away from OTC teeth whitening products and ask your dentist about professional teeth whitening! They'll perform a thorough oral examination to ensure you don't have any existing dental issues. Plus, you'll receive custom-made plastic trays and a powerful gel that's stronger than anything you can find at your local store. With their help, you'll have your desired results in no time all from the comfort of your home. If you want quick results, you can even opt for an in-office whitening treatment. At your consultation, they'll explain your options and help you decide on one that's best for your needs.
Ready to get the smile of your dreams? Contact your cosmetic dentist and schedule a consultation for teeth whitening. You won't regret it once you see your blinding results!
About the Practice
At Water's Edge Dental, we offer high-quality and personalized services to patients of all ages. Our team is passionate about helping families achieve and maintain their very best smiles. If you have any questions about over-the-counter teeth whitening products, don't hesitate to ask. You can reach an experienced team member via our website or call (386) 761-5883.