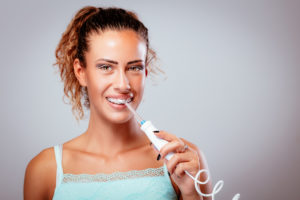 Most dental patients know that they need to brush and floss their teeth every day and visit a dentist twice a year for dental checkups. A good number of people even know that they need to choose a soft bristled tooth brush and floss that fits comfortably between their teeth. However, when you ask dental patients about water flosser, they often don't know what these oral hygiene tools are. However, many patients could benefit from using a water flosser. In fact, they're recommended for patients with traditional bracket and wire braces, those with dexterity concerns, and patients with gum disease. A water flosser uses high water pressure to help patients remove plaque and tartar buildup between teeth. Additionally, water flossers give patients the ability to clear plaque and tartar from the smallest pits and grooves in the smile and from around braces and dental restorations. Like any other oral hygiene product, no two water flossers are exactly the same, but you can find an effective water flosser that fits your needs and budget.

1 – Look for the ADA Seal of Approval
The easiest way to make sure you're picking the best water flosser is to look for the American Dental Association (ADA) seal of approval. When you pick an ADA approved oral hygiene product, you know that the water flosser has been tested and found effective in caring for smiles.
2 – Ask Your Dentist for a Recommendation
Your dentist is, as always, your best resource when it comes to choosing the right water flosser. If you're interested in finding out more about whether or not you would benefit from using a water flosser, ask your dentist or dental hygienist about water flossers during your next dental checkup.
3 – The Most Expensive Water Flosser Isn't Necessarily the Best
Many people think that picking the most expensive water flosser is the best way to ensure they've chosen the right product. However, the cost of water flossers is impacted by a number of things that have nothing to do with their efficacy. For instance, the materials used to make the flosser and the size of the water tank can make your flosser pricier. Look for more important factors like the speed of water, good reviews online, and the ADA seal of approval.
Meet Dr. Bannan
Port Orange general and family dentist, Sean Bannan, DDS, is happy to help you with all of your dental health care needs. Dr. Bannan and the Water's Edge Dental team will be happy to help you find the right water flosser for your smile. Please don't hesitate to ask our dentist or one of our skilled dental hygienists for help selecting your water flosser, toothpaste, or other oral hygiene products. Contact our team to find out more or schedule an appointment with us in our Port Orange dental office. If you're interested in learning more about dentistry, read our blog regularly.