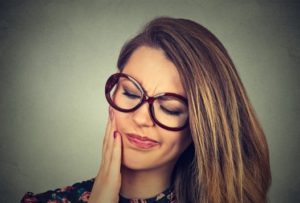 Do you suffer from reoccurring jaw pain? This is known as orofacial pain, which is a term used to describe pain that occurs in the jaws, face, or mouth. The symptoms and the causes of the discomfort can be quite diverse; however, it is believed that 95% of cases originate from a dental issue, such as an abscess. With the National Institutes of Health estimating that 1 out of 10 Americans suffer from chronic craniofacial pain and inflammation, it is quite a large epidemic. Now, groundbreaking research may have found the cause behind chronic jaw pain.

Is Your Orofacial Pain Due to an Abundant Protein?
Scientists at Oregon Health and Science University School of Dentistry have recently made a discovery that could point to the cause of some orofacial pain. During their research, it was found that an abundance of a certain protein can influence pain signaling. With this new information, it could lead to new therapies and treatments to help reduce the occurrence of craniofacial pain and inflammation.
The results of the research found that an underlying molecular mechanism causes an increased production of a pain-signaling protein that is released during times of inflammation. When tissues become inflamed, it causes the never cells that carry the pain information from the head to the brain to increase the production of the protein, known as brain-derived neurotrophic factor (BDNF).
The increase in the protein influences the pro-inflammatory cytokine tumor necrosis factor (TNF). This causes a significant increase in inflammation of the tooth pulps. In addition, this nerve stimulation promotes the BDNF production in response to TNF.
How Can This Information Improve Your Pain?
The new findings offer promising results for new treatments of orofacial conditions, like temporomandibular joint disorders, toothaches, and even gum disease. With the pain ranging from mild to severe, finding the underlying cause of the issue is vital for providing relief. The American Dental Association encourages anyone who is experiencing orofacial pain to schedule an appointment with their dentist right away.
Your dentist will work to find the cause of the discomfort to provide an appropriate course of treatment. With the right treatment plan in place, the underlying cause will be treated to restore your quality of life.
Do not let jaw pain ruin your day any longer. Get the relief you need by calling your dentist.
About Dr. Sean Bannan
Dr. Sean Bannan is a second-generation dentist who has a passion for creating healthy, beautiful smiles. He received his Doctor of Dental Surgery degree from the University of Michigan School of Dentistry. With a lifelong passion for continued education, he remains current with the latest treatments, techniques, technologies, and research to provide superior dental care. Due to his training and qualifications, he is supported by various organizations, including the American Dental Association and the Florida Dental Association. In addition to general dentistry, he provides many areas of specialized care, including the treatment of TMJ disorders. If you suffer from orofacial pain, Dr. Bannan will provide you with the relief you need. Contact Water's Edge Dental today to schedule a consultation.