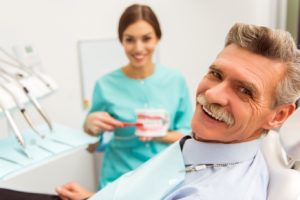 Guided bone regeneration might sound like some sort of witchcraft used to regrow bones, but it's actually science! Using this method, dentists can restore, replace, and reshape lost or damaged bone structure. This may be necessary for patients who have lost teeth, who are seeking implant-retained tooth replacement, and those who need to reshape the jaw. Whatever the need, guided bone regeneration allows people to achieve and maintain their healthiest smiles.

When Guided Bone Regeneration is Recommended
Guided bone regeneration is an advanced surgical procedure that isn't ideal for every patient. However, there are many situations where this treatment is the best option to ensure patients keep their whole, healthy smiles for life. Some of the oral health needs for which we recommend guided bone regeneration include:
Preparation for dental implant placement where diminished jawbone density reduces patients' chances for successful implant placement.
Preservation of sockets for future tooth replacement procedures following tooth loss where immediate tooth replacement will not occur.
Prevention of adverse changes to facial shape following tooth loss. Patients who choose traditional removable dentures or who forego tooth replacement for a time may suffer from continually diminished bone density. Guided bone regeneration can prevent this loss of bone structure.
Restoration of bone defects that are genetic or occur due to injury or damage.
How Guided Bone Regeneration Works
Each case of guided bone regeneration is different, and patients will receive a personalized plan to restore their oral health and jawbone density. The basic treatment plan requires the surgical attachment of barrier membrane. This material fuses to the existing bone tissue. It then stimulates the bone to prevent the loss of density and maintain natural shape and structure as well as recreating lost structures. If a non-resorbable membrane is used, patients will need to return to the dental office to have this material removed. Following the removal or the resorption of barrier membrane, additional treatments can proceed. This includes tooth replacement plans or other dental restorations that required guided bone regeneration treatment.
Meet Dr. Bannan
Sean Bannan, DDS is the son of a skilled dentist. His father mentored him during his early years, and Dr. Bannan fell in love with the field of dentistry. Following in his father's footsteps, Dr. Bannan serves Port Orange dentistry patients at Water's Edge Dental. He and his dedicated dentistry team take the time to care for patients and make sure they feel right at home. If you're new to the area or want to schedule an appointment, don't hesitate to reach out to our team. We're here to help whenever patients need us most.