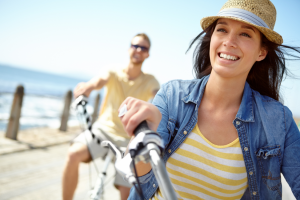 There's perhaps no better way to spend summer vacation than by taking a trip to the beach—the warm sun's rays, the salty ocean breeze, and the cascading waves crashing against the pier are all reasons to smile! With that in mind, you should want your pearly whites to look their best every time you grin—which is where cosmetic dental services such as veneers come in handy! Here's more from your trusted cosmetic dentist about how veneers can improve your smile just in time for your summer vacation!
A Closer Look at Veneers
Veneers are perhaps the most comprehensive cosmetic treatment available these days, and they've totally reshaped the cosmetic dentistry landscape thanks to their capabilities! Dentists can bond these tiny, customizable shells to the outer surfaces of compromised teeth, immediately masking any visible flaws or damage and improving their appearance tenfold.
They're made from durable materials like dental porcelain, can be color-matched and shaped for as many teeth as needed, and they can endure for several years under optimal circumstances. It's worth noting that a small amount of enamel needs to be removed from the teeth receiving veneers, but this ultimately ensures their lasting beauty and integrity.
4 Ways Veneers Can Improve Smiles
When it comes to improving the appearance of teeth, few options can match what veneers can accomplish. Here are just four of the ways in which they can noticeably upgrade your pearly whites just in time for your summer vacation:
#1. They Can Resolve Staining
There are several reasons for teeth staining and discoloration, and although teeth whitening is often considered the go-to approach for resolving these issues, veneers can also be used to cover up any stubborn stains or dark spots.
#2. They Can Close Gaps Between Teeth
Since veneers can be shaped and sized in virtually any way, they can be situated to close present gaps between teeth by covering them. This also drastically reduces the amount of plaque and tartar buildup between teeth.
#3. They Make Teeth Appear Straighter
Veneers can also be used to make teeth appear straighter and more uniform in appearance without the need for orthodontics. However, since they don't actually shift your teeth, for severe cases of misalignment and other bite issues, a true orthodontic solution is likely needed instead.
#4. They Can Restore Damaged Teeth
If you have chipped, cracked, or otherwise damaged teeth, veneers can be used to cover up those imperfections and restore your teeth to a natural-looking state. However, they cannot resolve severe damage—sometimes a dental crown or other type of restoration might be needed.
The bottom line is that if you're dealing with some type of aesthetic Imperfection in one or multiple teeth, there's a good chance that veneers might be the perfect solution. Don't hesitate to speak with your dentist about the treatment if you're ready to upgrade your pearly whites just in time for your summer fun!
About the Practice
Dr. Sean Bannan and his talented team at Water's Edge Dental have proudly served patients and families in the Port Orange, FL community for several years. They offer a wide range of treatments including cosmetic services such as veneers to help you and your loved ones achieve beach-ready smiles! If you have any questions about the blog or any of the services offered by the practice, or if you'd like to arrange a visit, feel free to contact the practice online or by telephone: (386) 761-5883.