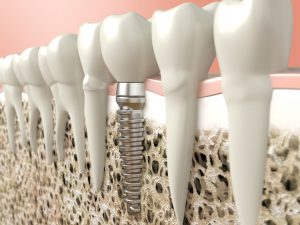 Dental implants didn't become the most successful solution for tooth loss by chance. Besides the materials and techniques used, advanced technology has played an invaluable role in the success of the procedure, like a cone beam scanner. Your implant dentist uses the revolutionary technology through every step of the treatment process. Here's why you should choose a dentist with a CT scanner if you're ready to invest in dental implants.
1. Diagnostic and Treatment Planning
A dental implant is unlike any other treatment because it replaces both the root and the crown. A titanium post is surgically placed into your jaw to serve as a new root. Your bone must fuse to it for the procedure to be successful. After your bone has healed, an abutment is placed on the post to connect a custom-made restoration.
Your dentist will review a CT scan of your mouth to ensure you are a candidate for dental implants. They can see every structure and detail of your mouth with a digital 3D model. They will review the scan to look for anything concerning that might complicate your treatment, like infections or bone loss.
Based on the results of your scan, they'll use the information to create a treatment plan, which may include additional procedures, like gum disease therapy or bone grafting. The scan is also used to pinpoint the precise locations to insert your posts for the best results.
2. Implant Placement Surgery
Your dentist will use the scan with computer-guided placement technology. This takes the guesswork out of the process to allow your post to be placed with the utmost accuracy to avoid any potential complications, like nerve damage or protrusion of the maxillary sinuses.
Benefits of a CT Cone Beam Scanner
Reduces room for error to promote the long-term success of dental implants.
Reduces surgery time and supports a quicker recovery.
Few post-op complications and discomfort.
Precise results for better function and aesthetics.
Dental implants are a big investment, so don't settle for anything less than the best. With the right dentist and elite technology, you can benefit from a solution with over a 95% success rate. Your new smile can last for 30 years or more with the right aftercare routine, like brushing and flossing.
You will never have to worry about replacing your lost teeth again by embracing the latest innovations in dentistry.
About Dr. Sean Bannan
Dr. Bannan attended the University of Michigan School of Dentistry and has regularly continued his training to provide advanced services, like dental implants. He is a proud member of the American Dental Association, the Florida Dental Association, and many other professional organizations. Request an appointment through his website or call (386) 267-6463.