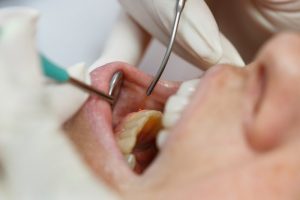 Gum recontouring has allowed people with imbalanced smiles to find symmetry again by removing overgrown pink gum tissue that blocks out their bright, healthy teeth. Over the years, the treatment has graduated from using a scalpel and sutures to a soft tissue laser, but many patients aren't aware just how different the modern laser treatment is from the traditional one. Read on to learn more about how these two approaches differ, and whether it's better to see a cosmetic dentist who uses a soft tissue laser.
How Does Traditional Gum Recontouring Work?
Traditional gum recontouring, also referred to as periodontal surgery, is performed with instruments that you would regularly associate with surgery, like a scalpel and sutures. Incisions would be made to remove the overgrown tissue, while gauze would help clear away any blood and sutures would be used to close the site. While it's effective and safe, more modern approaches are now being used that make the treatment more streamlined and comfortable.
How Does Laser Gum Recontouring Work?
Instead of using a scalpel to remove soft tissue and reframe the smile, many cosmetic dentists now utilize a soft tissue laser. It's a small, pen-shaped device that emits a concentrated beam of light from the tip of it. It easily removes gum tissue, all while cauterizing the area on-contact, minimizing bleeding and killing all bacteria, reducing the risk of post-op infection. It eliminates the need for traditional surgical tools.
What are the Benefits of Seeing a Modern Cosmetic Dentist?
Cosmetic dentists that keep up with the latest advancements in their field are likely to utilize a soft tissue laser during gum recontouring because it offers their patients a more comfortable and safer treatment. Some of the benefits that you'll be able to enjoy with laser gum recontouring over traditional include:
Reduced risk of post-op infection since the soft tissue laser cauterizes the incision site on-contact and kills bacteria.
Shorter treatment and healing times due to reduced bleeding. Healing typically occurs within a few days after laser treatment, allowing patients to resume their daily lives.
Better patient recovery outcomes due to minimized irritation, swelling, and bleeding.
Utilizing the latest technology in their office doesn't mean your cosmetic dentist is just showing off—it means that they're employing modern techniques in their field to ensure that you have a comfortable and safe treatment that yields the best possible results!
About the Author
Dr. Sean Bannan is dedicated to providing his patients with the highest quality of care by keeping up with the latest advancements in his field. He is a proud and active member of several professional organizations, including the American Academy of Cosmetic Dentistry and is committed to continual, lifelong learning. He offers a wide range of cosmetic procedures to help his patients enjoy their dream smiles, including laser gum recontouring. For questions or to schedule a consultation to learn more about cosmetic dentistry, visit Water's Edge Dental's website or call 386-761-5883.