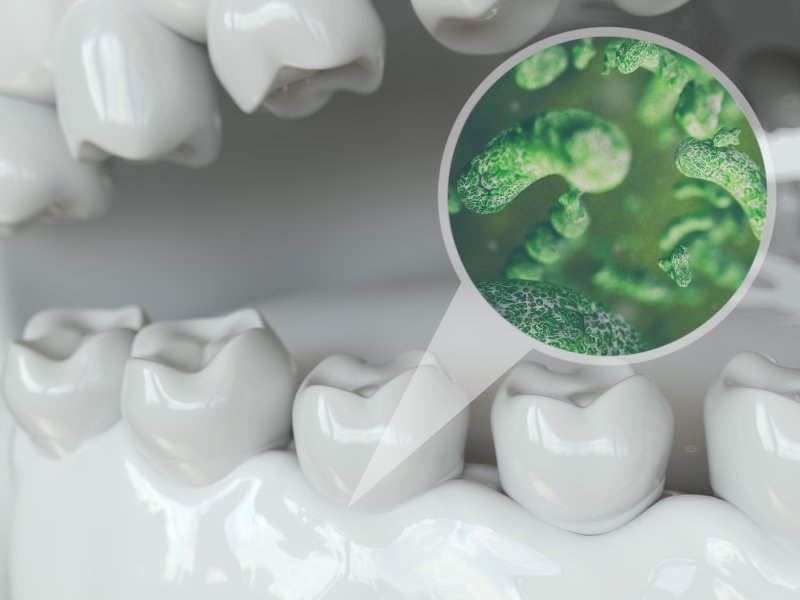 One of the most important aspects of preventive dentistry is controlling the presence of bacteria in the mouth. Some of the most common oral health conditions, like gum disease and tooth decay, come down to the effects that bacteria have on the mouth as a whole.
But how much bacteria is there in the mouth? What do they do, and how can they be managed? If you're wondering, here's a guide that can tell you a little bit more.
How Many Bacteria Are in the Mouth?
The mouth is absolutely full of bacteria, both good and bad, so getting an exact count of them can be a daunting task. Estimates vary, but scientists believe that there are anywhere between 500 and 650 different strains of bacteria across the average person's teeth, gums, cheek and tongue.
Researchers have also tried to calculate the average biomass of bacteria contained in interdental plaque deposits, and found around 1mg across people's whole mouth. This equates to around 20 billion individual microbes!
What Do These Bacteria Do?
While "germs" often have a negative connotation, that doesn't describe all of the bacteria in the mouth. The mouth is a microbiome, and each different strain of bacteria has a role to play in its ecosystem.
There are of course some strains that cause gum disease, but there are others that can actually control the population of those bacteria, keeping them in check.
How to Prevent Bad Bacteria from Growing
As was hinted at before, the best thing you can do to keep your oral health in good shape is to manage the growth of bad bacteria. While the good bacteria in the mouth can help with that, the best thing you can do is to reduce the number of plaque deposits in the mouth as a whole.
When it comes to that, the most important thing you can go is to maintain a solid dental hygiene routine. Brush twice a day, floss daily, and make use of an antibacterial mouthwash to break up plaque deposits. Finally, be sure to see your dentist for biannual cleanings; they'll be able to clean in places that you can't reach on your own.
About the Author
Dr. Sean Bannan's father was a dentist, and growing up around dentistry, he was inspired by the way that he was able to help the members of his community and improve their smiles. Now, he's happy to carry on the family tradition. Dr. Bannan received his doctorate from the University of Michigan School of Dentistry. He is currently a member of the American Dental Association and the Florida Dental Association.
If you have any questions about the bacteria in the mouth, he can be reached at his website or by phone at (386) 761-5883.