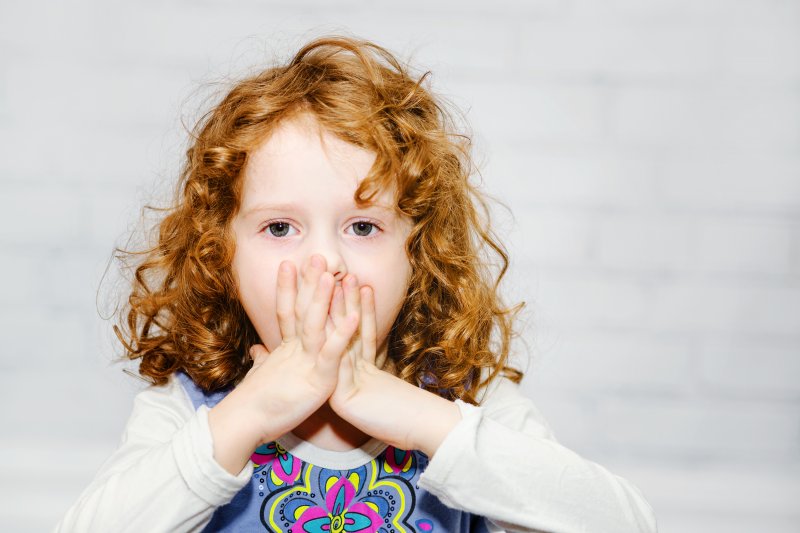 You tell your child to brush their teeth twice a day: once after breakfast, and once before they go to bed. But despite this, you can't help but notice that your little one seems to constantly have bad breath. Have they not been following your instructions? Actually, there are a few different reasons why breath can turn unpleasant that have nothing to do with brushing. Read on to learn 5 surprising reasons for bad breath in children.
1. Infected Sinuses
If your child's bad breath is accompanied by a sore throat or a stuffy nose, then it might be a sign that their sinuses are infected. The smell is a side effect of fluids that have collected in the throat, giving bacteria a place to gather. You should seek medical attention for your child if you think they have a sinus infection; hopefully the issue can be treated with a prescription of antibiotics.
2. Swollen Tonsils
You can check your child's tonsils (two soft tissue masses located at the back of the throat) with a flashlight. If they're red, inflamed or have white spots, it means they're infected – and they can smell terrible as a result! Like with infected sinuses, a professional can examine your child's tonsils and give them an antibiotic to help.
3. A Foreign Object in the Nose
Did you know that your child putting small objects in their nose could affect their breath? If a bead, bean, toy accessory or bit of food gets stuck deep in the nasal passages, it will start to smell. Obviously, the best way to solve this particular problem is to have a professional locate and remove the foreign object.
4. A Dry Mouth
If your child is the kind that likes to run around or enjoys playing a sport, it's important for them to stay hydrated. Not getting enough water leads to less saliva in their mouths. In addition to the oral health problems this can create, a lack of saliva means less of an opportunity to wash away the bacteria that cause odors. Always make sure your child has easy access to water whenever they're playing outside.
5. Tooth Decay and Gum Disease
Bad breath could be caused by cavities, gum disease, mouth sores and other oral infections. Of course, in this case the smell will be the least of your child's worries; they could potentially lose their teeth if the infections aren't treated. Make an appointment with your child's dentist right away if you think their smile is at risk.
Never assume that bad breath just means your child hasn't brushed. The smell could have any number of causes, and brushing might not be enough to solve the problem. Take the time to find the real source of bad breath so that you can take the appropriate steps to help your child.
About the Author
Dr. Sean Bannan was mentored by his father, who is also a dentist, allowing him to gain significant experience before even starting formal dental education. He's happy to see children of all ages to help them protect their precious smiles into adulthood. If you are concerned about your child's breath and want to make an appointment at our Post Orange practice, Water's Edge Dental, visit our website or call (208) 391-8554.