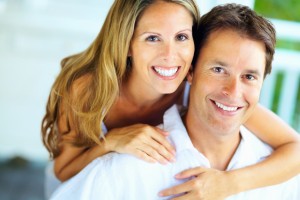 We've got some big news this morning regarding you and your gum health this morning. The American Association for Cancer Research recently published an important study — they found that women with gum disease are more likely to develop breast cancer than women who have healthy gums. As your dentist in Port Orange, we know that's distressing news, especially when you consider the fact that nearly 75 percent of Americans suffer from gum disease. (Read the full study in a new window here.)
This new research adds to the growing evidence we have of conditions that are linked to gum disease: heart disease, stroke and diabetes are just a few. Fortunately, you can take steps to prevent gum disease. Keep reading to learn more about how you can keep your overall health in check by maintaining excellent gum health today!
Preventing gum disease is simple
Although it's a highly treatable condition, It's easiest to keep gum disease from developing in the first place. Here's how you can prevent periodontitis for healthy teeth and gums.
#1: Brush well, and often
Gum disease is most often caused by insufficient oral care — like careless toothbrushing, for one. Make sure you're brushing for two minutes, twice a day, to enjoy the healthiest teeth (and freshest breath) possible. Try setting a timer if you have trouble reaching the two minute mark.
#2: Floss daily
And once you're finished brushing, don't forget the floss, the only way to remove the bacteria and food particles your toothbrush leaves behind. Make a habit of it by placing the floss somewhere you're sure to see it, like on top of your toothbrush.
#3: Eat a balanced diet
You know your diet greatly influences the way your body feels, but you may not realize that eating a variety of fresh produce, lean protein and whole grains is also vital for your tooth and gum health.
#4: Kick the habit
As if you needed another reason to stop using tobacco, this habit is actually the number one cause of gum disease. Tobacco use in any form causes real mouth problems, and can make gum disease harder to treat once it develops.
#5: Visit your dentist
Finally, your twice-annual checkups at Water's Edge Dental are crucial to maintaining healthy teeth and gums for a lifetime. How long has it been since your last checkup and cleaning? Let us keep your mouth free from decay and infection by scheduling your appointment today. We can't wait to see you enjoying your healthiest smile!