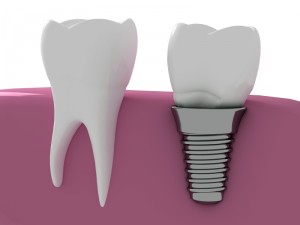 Nowadays, dental implants are the preferred choice for people who have missing teeth. With the American Academy of Implant Density reporting at least 69 percent of Americans have one or more missing teeth, dental implant surgeries have been steadily on the rise. With a success rate of almost 100 percent, the increase in quality of life and smile appearance is simply immeasurable. At Water's Edge Dental, we are an implant dentist in 32119, offering the benefits of dental implants to improve your smile and confidence.

Benefits of Dental Implants
Let's face it, our teeth don't always last a lifetime. There are many reasons we lose our teeth, whether from injury, decay, or medical problems. No matter the reason for your missing teeth, you're able to restore your beautiful smile with dental implants.
Dental implants are a permanent solution to replace a missing tooth. Using an implant that's fused to the jawbone, artificial teeth are inserted to provide a long-term solution for tooth loss. The artificial teeth function and look as natural teeth, allowing you to have a beautiful smile once again.
In addition to an improved smile, dental implants allow you to preserve your remaining natural teeth because there will be less strain on them. In addition, you'll avoid future oral complications due to bridgework and dentures. The implants preserve bone to maintain the natural structure of the face, while improving your ability to chew and speak.
Unlike traditional dentures, implants are permanently inserted into the mouth. As a result, there's no discomfort or slipping. Plus, you won't have to worry about adhesives or cleaning dentures. Not to mention, the biting force of implants is roughly 70 percent greater than what you get with dentures. Your implants will last a lifetime as long as you brush and floss like they are your natural teeth and maintain regular visits with your dentist.
Dental implants are the ideal solution, whether you're missing one tooth or need a full mouth restoration. At Water's Edge Dental, we're able to perform your implant surgery to improve your oral health and quality of life. Will give you a smile you'll love through our safe and effective dental implant procedure.
Port Orange's Implant Dentist
If you're in need of implants, you need a qualified and experienced dentist to handle the full procedure. Dr. Bannan is the educated, qualified, and experienced implant dentist you need for dental implant surgery.
Dr. Bannan from Water's Edge Dental provides many options for those needing dental implants. In addition to traditional implants, we also offer All-on-4 dental implants, which allows you to have immediate and permanent implants in one appointment. This replaces your missing teeth with a prosthodontic device to hold dentures in place. We also traditional dental implants to fully rebuild your smile. In as little as two visits, you'll have a beautifully restored smile for a natural look.
For those needing an implant dentist in 32119, let Dr. Bannan at Water's Edge Dental give you the smile you deserve. We'll fill the gaps to give you a more attractive, lasting smile.