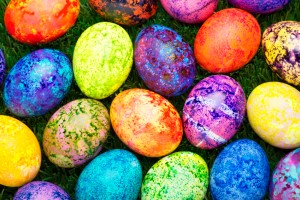 Like Halloween, Easter can be heavy on the candy, which leaves your child at risk for tooth decay and cavities. The good news is that, as a parent, you're in control of what goes into your child's Easter basket, and you don't have to fill it with candy. Your dentist in Port Orange has some tips for how you can make a fun and healthy Easter basket that your child will love!
Healthy Treats
Dried fruit snacks, cheddar bunnies, or graham cracker bunnies are great alternatives to candy for your child's Easter basket. Depending on how much time you have and how ambitious you are, you can even make your own healthy homemade versions of all of these treats. A great way to control portions is to use plastic eggs to hold your healthy treats.
Consider Fun Toys as Alternatives
Instead of candy, consider filling your child's Easter basket with fun toys or activities. You definitely don't have to break the bank with expensive toys. Choose things like sidewalk chalk, lip balm, markers, and play dough. Consider filling plastic eggs with small items like Legos or coins instead of candy. Small items or fun activities go a long way!
You can choose a theme like gardening and fill your child's basket with gardening tools, seeds and child size gardening gloves so your child can help you plant your garden. Or choose a summer theme and stock up on all the things your child needs for summer such as flip-flops, pool toys, sunglasses, or swimming goggles. There's no end to the possibilities of fun themed Easter baskets!
Chocolate
If you still want to include some chocolate consider using dark chocolate, which has some health benefits to offer. Choosing chocolate that contains 70% or more cacao can help reduce blood pressure and lower the risk of heart disease. Consider using individually wrapped candies, as opposed to pouring jellybeans into your child's basket. Put a few individually wrapped candies into their basket that children can enjoy one at a time. You can also use plastic eggs to control candy portions.
At Water's Edge Dental, Dr. Sean Bannan and his team are here to support you in creating optimum oral health for your child. We welcome patients of all ages to our office, and we love educating children about their oral health and setting them up for success at their dental appointments. We wish you a happy Easter, and invite you to contact our office for more ideas on healthy holiday treats!