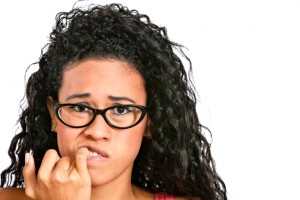 As your dentist in 32119, Dr. Sean Bannan wants you to know taking good care of your teeth is about more than brushing, flossing and visiting our office for twice-annual checkups. Many adults have little habits that they don't realize are doing real damage to their teeth! Are you guilty of one of these tooth harmers? If so, learn why (and some tips on how) you should break your habit today.
#1: Nail biting
It's one of the most common ways we show stress and boredom, by biting our nails. But be careful the next time you're presenting at a big meeting or tapping your foot in the waiting room — nail biting can cause the front teeth to wear, chip or crack. It's especially important for people who wear braces to avoid the habit, as the combined pressure of biting and braces can lead to root shortening.
How to stop nail biting: When you're ready to stop, we suggest trying to substitute one habit for another. Try squeezing a stress ball or popping a rubber band anytime you're tempted to gnaw. Developing this new habit will keep your hands busy — and away from your mouth.
#2: Using teeth as a tool
We have a little saying for this one: tools, not teeth. Sure, sometimes you just really want to get into that bag and don't have time to find the scissors — but using your teeth as a tool is a quick way to experience breaks, chips or excessive wear. Next time you're tempted to use your chompers as scissors, pliers or a knife, take our advice… and just don't.
How to stop: Commit to using your teeth only to bite, speak and eat. You should also reconsider your organizational habits to make finding the correct tool easier when you need it.
#3: Chewing ice
One simple way to avoid tooth and gum injuries is to stop chewing on ice — another habit that can be difficult to break, especially in the hot Port Orange summer months. But it shouldn't come as a surprise that rock hard ice is a major tooth injurer, leading to breakage and wear.
How to stop: Remember that you can find similar hydration and crunch with refrigerated apples, celery or carrots.
#4: Not flossing
So this one is actually about a habit you DON'T have, but it's just as destructive as the others. Adults who don't floss habitually are at a much greater risk for developing tooth decay and gum disease, the most common cause of missing teeth. Flossing is a crucial part of a good oral hygiene routine, as it thoroughly removes the food particles and bacteria the toothbrush just can't reach.
How to start: If you'd like to floss daily but just can't make a habit of it, you've got to commit. Decide you won't call your oral hygiene routine complete until you've brushed for two minutes and flossed after — and then put the floss somewhere you won't forget about it, like on your nightstand or on top of your toothbrush.
Questions? Get In Touch Today!
Do you have questions about something you've read here, or about anything else regarding your dental health? If so, don't wait to get in touch with Water's Edge Dental. As your Port Orange Dentist, we're here to help you maintain a happy, healthy smile today, and for years to come!