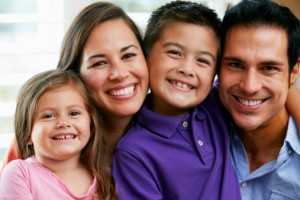 Want to get you children to visit the dentist without complaining? Have an older child encourage them to go. That's exactly what's behind the new initiative between Boy Scouts, Girl Scouts and the National Children's Oral Health Foundation. Scouts can now earn colorful badges for learning about oral health, sharing what they learn with their fellow Scouts and promoting good oral health habits within their communities. Port Orange dentist Dr. Sean Bannan is on board with the program and he encourages all of his patients to support the growing initiative.
Scouts and Smiles
In an effort to help battle tooth decay and gum disease, Scouts can now earn badges—the Real Life ToothFairy badge for Boy Scouts and the Real Life SuperHero badge of Girl Scouts—for their part in learning about oral health and organizing oral health activities for their communities. In doing so, the Scouts become "community ambassadors" for children's oral health.
Port Orange Dentist and Oral Health
One of the activities a Scout can choose to earn a badge is to visit a dental office in order to learn about the procedures dentists and hygienists use to ensure patients' healthy teeth and gums. But even if you're not a Scout, visiting the dentist regularly is a good idea. Dr. Bannan recommends a dental cleaning for Port Orange residents at least twice each year. With this regularity, we can keep tabs on the condition of your teeth and gums. Any problems or changes in your oral health are more easily recognized when we see you periodically.
For example, gum disease can develop quickly, very quickly. Did you know that not brushing your teeth for just one day gives plaque plenty of time to accumulate along the gum line and between your teeth? Imagine what can happen if several days are missed or when dental checkups are ignored.
At Water's Edge Dental, your dental checkup includes a thorough cleaning. Our dental hygienists will polish your teeth, floss to eliminate plaque and remove small patches of tartar (calcified plaque) that are both the precursors to gingivitis and periodontitis. Gum disease is not only a threat to your oral health, but has the potential to affect your general health as well. Dentists and researchers have found a connection between the oral bacteria that causes gum disease and other health concerns. Some of these are:
Cardiovascular disease
Type 2 diabetes
Stroke
Osteoporosis
Depression
Respiratory illnesses
Call Our Office Today
Dr. Bannan and his staff encourage you and your family to have regular dental checkups in Port Orange. The time will be well spent. Scouts honor.