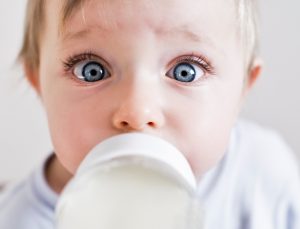 Infant tooth decay is better known as "baby bottle tooth decay." This derives from the fact that infant teeth tend to deteriorate from the contents of their bottle if oral hygiene isn't cared for. Just because baby teeth aren't permanent, doesn't mean that they are any less important. Infant teeth still need attentive care because they are simply the placeholders to your child's adult teeth. This is an important job that our family dentist in Port Orange understands completely. Maintaining healthy baby teeth help to ensure proper development in their speech, nutrition, and even their precious smiles. Dr. Sean Bannan, D.D.S. and Dr. I. Warren Hersch both are excited to help new (and returning) parents provide the best dental health care for the newest members of our patient's families.
Tips on How to Keep Your Baby's Teeth Safe
If infant teeth are infected or lost too early due to baby bottle tooth decay, your child may develop poor eating habits, speech problems, crooked teeth, or even damaged adult teeth. The chances of their adult teeth being crooked are also increased.
The good news is that with a few simple steps you can deter baby bottle tooth decay from affecting your family. Here's how:
Begin "brushing their teeth" as soon as your child's first tooth comes in to promote comfortability with the practice.
Wipe your baby's gums with a gauze pad or wash rag after feeding.
Clean or massage areas without teeth.
Practice flossing once all baby teeth have come in.
Schedule regular dentist appointments by your child's first birthday.
Water's Edge Dental is very proud of our compassionate children's dentists in Port Orange. If you feel that your infant or child may be experiencing baby bottle tooth decay, please call our office to schedule an appointment for an examination.
Our Other Children's Dentistry Services
No matter what stage of life you are in with your children, our dentists at Water's Edge Dental want to make sure their teeth are healthy and beautiful. If you're looking for children's dentistry in Port Orange, then you can count on us to provide your son or daughter with all the services they need. We can begin with:
Regular visits to the dentist for your baby will help them become adjusted to the dentist's office and the people in them. This will hopefully get them adjusted to their new regular dentist as early as their first tooth's arrival.
Adolescent dental examinations allow our dentists to examine the development of their gums and alignment, check each tooth for developing signs of cavities, and polish their teeth.
Dental sealants and fluorides are also available to combat tooth decay and avoid cavities. The fluoride helps to strengthen enamel for an even stronger shield between their teeth and decay.
How can I set up an appointment?
Contact Water's Edge Dental today if you have any questions about our children's dentistry services or if you would like to set an appointment. Our office is located in Port Orange, FL, and we welcome patients from the areas of Daytona Beach, Port Orange, Holly Hill, Edgewater, Ormond Beach, and beyond. Our team is ready to serve the needs of you and your family from the time they are infants into adulthood!