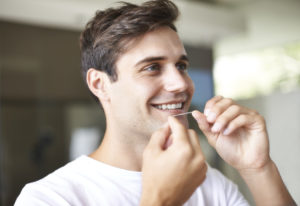 June is men's health month in the US. This month is dedicated to raising awareness about common oral and overall health concerns that affect men, especially those that are often overlooked. When it comes to dental care, research indicates that men are much less likely to keep up with their regular oral hygiene routines and preventive dental checkups. This puts them at increased risk for oral health issues that can negatively impact every aspect of their day to day life from the simplest smile to eating a healthy diet.

Men are at Higher Risk for Certain Oral health Concerns
While men are less likely to keep up with their regular hygiene and dental office visits, they're more likely to suffer from a number of oral health issues, including:
Untreated gum disease developing into severe periodontitis that is the leading cause of tooth loss among adults
No surprise that also means men are at significantly higher risk for tooth loss due to gum disease and generally poor oral health
A greater risk for oral infections that can develop into tooth abscess and other oral and overall health issues
More likely to suffer from dry mouth, which can lead to tooth decay and gum disease
Less likely to wear mouthguards as directed during athletic events or to protect teeth from nighttime grinding and clenching
What Can Men do Differently?
The key to avoiding these issues is simple – men need to take more time to care for their smiles every day and by visiting the dentist every six months for exams and teeth cleanings. Some tips to make the most of your at-home hygiene routine include:
Brush teeth for at least two minutes at a time twice a day
Use a soft or ultra soft bristled toothbrush and brush gently to avoid excessive enamel wear or soft tissue damage
Place your toothbrush at a 45 degree angle toward your gums to remove plaque buildup at and below the gum line
Use fluoridated toothpaste to strengthen enamel and protect your teeth from decay
Brush systematically to remove plaque buildup from every surface, top and sides, of each tooth
Floss at least once each day to remove plaque buildup between teeth
Meet Dr. Bannan
Port Orange dentist, Sean Bannan, DDS, knows the importance of maintaining the optimal level of oral health for men and women of all ages. Whether you're looking to improve your oral health or just need a dental practice home for all of your dentistry needs, give the Water's Edge Dental team a call today. We will be happy to answer questions or schedule an appointment for you to sit down with Dr. Bannan to discuss your dental health care goals. It's never too late to start creating the healthy, beautiful smile you deserve.