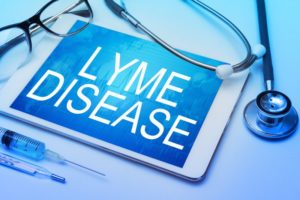 Each year, about 30,000 cases of Lyme disease are reported to the CDC, but in fact, there may actually be up to 300,000 diagnosed cases each year. Most of these occur in the Northeast and Upper Midwest, but that doesn't mean that Florida residents are exempt from the possibility of getting this or another tickborne illness. Since May is Lyme Disease Awareness Month, we thought this would be the perfect opportunity for us to talk about this disease and the surprising connection between chronic Lyme disease in Daytona and oral health.
Chronic Lyme Disease — What Is It?
Lyme disease is an inflammatory disease that's usually caused by a tick bite. Its symptoms include fatigue, a rash, and flu-like symptoms. Doctors prescribe antibiotics to treat the condition, and in about 90 percent of cases, the medicine works wonderfully. It cures the infection so the affected person can get back to enjoying their everyday life without worries.
In other cases, symptoms of the disease linger even after a person has undergone a full course of treatment for Lyme disease. This is when the illness becomes known as persistent Lyme disease or chronic Lyme Disease.
Chronic Lyme Disease and Oral Health
Oral health has an intimate connection with overall health. Indeed, the mouth is a gateway to the rest of the body, which is why it is so important to see a dentist in Daytona who is interested, not just in your teeth and gums, but also in your overall wellness.
Dental work, such as a tooth extraction, may expose a pocket of Lyme-related bacteria and cause a flare-up of your condition. However, that is no reason to avoid going to the dentist. Delaying necessary dental work will only lead you to more pain and worsened oral health problems. Neglecting oral health can also create more places in your mouth where Lyme-related bacteria can hide.
Toxicity from metals in the mouth may also contribute to Lyme symptoms. Therefore, when you need to get a cavity treated, it's best to choose metal-free restorations. It may even be wise to replace old metal fillings with composite resin ones. However, this should be done carefully in order to reduce your risk of complications from Lyme disease.
Dentists Help Diagnose Lyme Disease
Sometimes, Lyme disease presents itself in symptoms such as headaches and orofacial pain, both of which may be mistaken as symptoms of a TMJ disorder. It is important that dentists be aware of the possibility of Lyme disease so they can refer patients to a physician when appropriate. This is especially true for patients who spend a lot of time in rural settings and who don't have any obvious dental problems but are still experiencing unpleasant oral health symptoms.
If you have chronic Lyme disease, please don't neglect your oral health! Your smile, and your overall health, will be grateful for your diligence.
About the Dentist
Dr. Sean Bannan is your "dentist near me" in Daytona who truly understands the role that oral health plays in overall health. If you are battling chronic Lyme disease or another condition, let him know so he can factor that into the care he provides for your smile. If you would like to ask questions or schedule an appointment, please contact us at 386-761-5883.