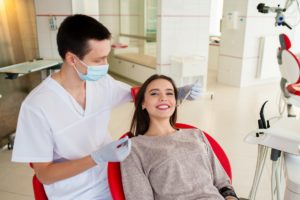 Are you among the 64% of adults who do not have dental insurance? If so, you probably have not been to the dentist recently because you are concerned about the cost. Although you would like to schedule an appointment, you do not want to deal with the hassle or added expense of dental insurance in Port Orange. While the coverage is beneficial for preventive care, it will not cover major dental expenses. Not to mention, you must deal with the headache and frustration of working with an insurance provider. As a result, you choose not to go to the dentist because it is easier. However, now you have another option. You can get the care you need while staying within your budget with an in-house dental plan.

Skip the Hassle of Dental Insurance Policies
Dental insurance can be privately purchased or available through your employer with the promise to save you money on your oral health needs. However, many quickly come to find that their coverage is not as beneficial as they had thought.
Often, people do not visit the dentist even with their coverage because they do not understand their benefits. Therefore, they are not sure what is covered and fear a large bill. The remaining out-of-pocket cost can be too much of a financial burden because there are many services that are not covered under even the best of policies.
Not to mention, you must deal with your insurance company. You must play by their guidelines while also managing insurance claims and forms for reimbursement. It is not uncommon for mistakes to occur and you are then left to foot the bill.
As a result, you made the choice to skip going to the dentist because the financial aspects are not worth it. However, you do not have to put your oral health at risk. You can visit the dentist and stay within your budge using an in-house dental plan in Port Orange.
Benefit from an In-House Dental Plan
An in-house dental plan allows you and your loved ones to get discounted care through your dentist for a low monthly or yearly subscription. This includes cleanings and checkups, as well as restorative procedures. In some cases, it can even cover cosmetic dentistry and orthodontics.
This offers a predictable way to know exactly what is covered while also giving you the peace of mind you need to know you will not be hit with a denied insurance claim and a large bill. You will not have to deal with the hassle of an insurance company while you keep your teeth and gums healthy.
Get Affordable Dental Care
If you are ready to make your oral health a priority, it is time to see if an in-house dental plan is right for you.
About Water's Edge
At Water's Edge Dental, we believe everyone should have access to affordable dental care to promote a healthy smile. We provide a Membership Club for in-house dental coverage. To learn more about our discounted dental plans, please contact our office to discuss your options.