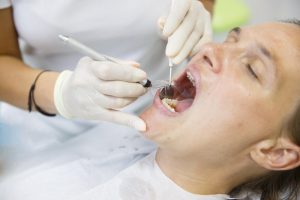 The COVID-19 crisis surprised both the citizens of the world and health professionals. Over the past year, a great deal of data has been collected, which has revealed a possible connection between COVID-19 (formally referred to as SARS-CoV-2) and gum disease. As you continue reading, learn what researchers have discovered, how you can prevent gum disease in Port Orange and what can be done to treat it.
Connecting the Dots
In a report published in an issue of the Journal of the California Dental Association, called the "Mouth COVID Connection," it's suggested that hospitalized COVID-19 patients with prior underlying gum disease may be at a higher risk of respiratory failure. Given that COVID-19 affects the respiratory system, it's plausible that there is also a connection between the virus and gum disease.
Researchers found that patients with high levels of IL-6 (interleukin), a harmful protein that is elevated when the gums become infected, can trigger life-threatening respiratory problems. Patients in this category who develop COVID-19 are more likely to need a ventilator to breathe.
How to Prevent Gum Disease
The best way to treat gum disease is to prevent it from ever occurring. Here are some key steps to implement:
Limit your sugar consumption, as oral bacteria are attracted to its leftover debris.
Practice excellent dental hygiene, which should include brushing and flossing your teeth at least two times a day to keep bacteria growth under control.
Every 60 to 90 days, discard your old toothbrush to prevent new bacteria entering your mouth.
Visit your dentist in Port Orange every six months for cleanings and examinations. If you have a history of cavities, you may consider more frequent appointments to make sure there are no new developments.
Treating Gum Disease
If you notice bleeding gums, foul breath, or gum or tooth sensitivity, these may be some early warning signs of gum disease. To be on the safe side, bring it to your dentist's attention so you can be examined.
One of the most common ways to treat gum disease is with a scaling and root planing procedure. The two-step process involves the dentist cleaning beneath the gum line to remove bacteria that have accumulated. He or she will also clean the affected tooth roots and smooth them to prevent new bacteria from gathering there in the future.
In addition to restoring your oral health, seeking treatment for gum disease will help to decrease the chances of being infected with COVID-19. With such a mysterious virus plaguing the world, it's necessary to take every step available to protect yourself and others.
About the Author
Dr. Sean Bannan earned his dental degree from the University of Michigan School of Dentistry. Throughout his career, he has remained dedicated to expanding his knowledge and skillset. Thus, Dr. Bannan has taken several hours of continuing education. He also maintains professional affiliation with the Academy of General Dentistry, the Florida Dental Association and other organizations. He treats gum disease at Water's Edge Dental, and he can be reached for more information through his website.