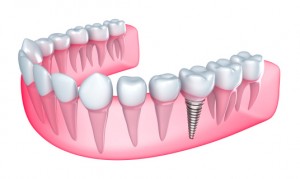 If you have a smile that is not complete, you may find it difficult to smile with confidence. A smile that has teeth missing is aesthetically unappealing to the eye, and can be extremely detrimental to the overall health of your smile and your body. Many people consider a smile a first impression, and if that is compromised, it can have negative effects on the way you feel about yourself, and the way you interact with the people you surround yourself with. Though you may have considered dentures and partials as tooth replacements, you may want something more permanent, allowing you to smile, eat, and communicate with total assurance. Because Dr. Sean Bannan understands the needs of his patients, he is able to offer dental implants to his patients at his Port Orange, FL dental office.
It is important to replace any missing teeth in your smile, as it can have bad effects on your entire body. By having teeth missing, you put yourself more at risk for gum disease, a misaligned bite, bone loss, tooth loss, low self-esteem, and TMJ. Also, the teeth in your mouth will begin to shift to make up for the extra space, putting even more teeth in your smile at risk.
The first step to getting your dental implants is a consultation with Dr. Bannan. He will take that time to assess the current state of your smile, inspect your bone density, and speak with you as to whether or not dental implants are right for you. You will also have that time to bring up any questions or concerns you may have regarding the procedure, as we want you to be as informed and comfortable throughout the entire process as possible. A surgeon will embed titanium posts into your jaw bone, replacing the missing tooth root. Over time and with healing, the implant will fuse with your jaw bone, generating new bone growth and establish a sturdy hold. After the healing time has passed, Dr. Bannan will place your crown on your implant. The crown exactly resembles a tooth, allowing your smile makeover to look as natural as possible! If you would like Dr. Bannan's help restoring your smile with dental implants, contact our office today.
If you are ready to make an appointment with Dr. Sean Bannan or have any questions, contact our office today. We are happy to take care of all of your general, cosmetic, and restorative dentistry needs. We are dedicated to providing patients of all ages with dental care that is both comfortable and high quality. Located in Port Orange, FL, we also serve the areas of  Daytona Beach, Holly Hill, Edgewater, Ormond Beach, and the surrounding communities.