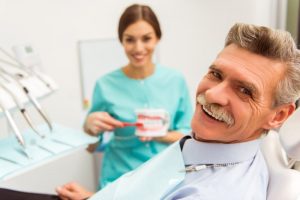 As any dentist will tell you, a healthy mouth is essential in having good general health. After all, oral problems like gum disease have been linked to medical conditions like heart attack, stroke, and type 2 diabetes. Unfortunately, the risk of these issues increases as you age. For example, more than a quarter of Americans over the age of 65 don't have any natural teeth left, making it harder to eat various healthy foods. That's why, if you have a loved one in assisted living, you should make sure they take good care of their mouth. Continue reading as a dentist for seniors in Port Orange explains the importance of routine dental care for older folks.
Prevent & Treat Problems Early On
Visiting a dentist twice a year for checkups and cleanings is vital for people of any age. However, tooth enamel becomes thinner and the gums recede as you get older, increasing the risk for oral health problems. Fortunately, routine dental visits can catch these issues early or even prevent them altogether. Often, these appointments are completely covered by dental insurance plans, including Medicaid. The sooner problems like cavities, gum disease, and oral cancer are detected, the easier (and less expensive) they are to treat.
Keep Their Teeth & Gums Healthy
Biannual dental visits are only half the battle when it comes to keeping your loved one's mouth healthy. At-home oral hygiene is just as important. If they have any remaining teeth, make sure they brush and floss on a daily basis. If not, then be sure they clean their gums and/or prosthetic teeth as directed by their dentist. Additionally, help them eat a diet low in processed sugars to reduce the risk of infections like gum disease.
Find Ways to Replace Missing Teeth
Missing teeth can make everyday tasks like eating or smiling difficult. While today's dentures are more lifelike and comfortable than ever before, most dentists recommend dental implants instead. These titanium posts are surgically inserted into the jawbone, helping them deliver a strength, security, and longevity that dentures simply cannot.
Seniors in assisted living can enjoy a greater quality of life by maintaining excellent oral health. Help your loved one take care of their mouth so they can enjoy a healthy smile for years to come!
About the Author
At Water's Edge Dental, Dr. Sean Bannan provides a wide variety of services that benefit senior oral health in Port Orange, FL. He earned his Doctor of Dental Surgery degree from the University of Michigan School of Dentistry and is a member of numerous professional organizations, such as the American Dental Association and the American Academy of Cosmetic Dentistry. To learn more about keeping your loved one's mouth healthy, visit Dr. Bannan's website or call (386) 761-5883.