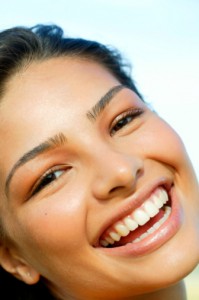 As a general dentistry practice, the health of your teeth and gums is the number one priority for Dr. Sean Bannan and his team at Water's Edge Dental in Port Orange, FL. We know, however, that you have another priority, too: the attractiveness of your smile. That's why our practice offers cosmetic dentistry. When you want your smile to be as beautiful as it is healthy, come to Water's Edge Dental for your cosmetic dentistry needs.
Teeth Whitening
We know there are many teeth whitening products sold in stores, but for teeth whitening that's fast and that lasts, nothing beats whitening in a dentist's office. At Water's Edge Dental, we use the Zoom! teeth whitening system, which can leave your smile several shades brighter after only one treatment. On the other hand, if you prefer not to take the time for an in-office appointment, we can give you a kit to use in the privacy of your own home. You'll wear the trays and professional grade gel for the amount of time Dr. Bannan recommends, and you'll achieve dazzling results.
Cosmetic Bonding and Porcelain Veneers
For patients with teeth that are chipped or slightly cracked; have stains that don't respond to teeth whitening; are misaligned, misshaped or have gaps in between them, we offer both cosmetic bonding and porcelain veneers. With cosmetic bonding, Dr. Bannan applies a strong composite resin to your damaged tooth, and then artfully sculpts and polishes the material for a natural-looking finish.
Porcelain veneers actually cross the boundary between cosmetic dentistry and restorative dentistry. These dental wonders are made of ultra-thin sheaths of dental porcelain that is cemented to the front side of the teeth in your smile zone. As such, they conceal your smile flaws—the cosmetic dentistry part—and they protect your damaged teeth from further harm, the restorative dentistry part.
Invisalign
If you're an adult with crooked teeth, but you don't want to look like a kid with metal braces, then there are Invisalign clear plastic aligners. Dr. Bannan will develop a customized treatment plan, which Invisalign uses to fabricate your aligners that will gradually and almost imperceptibly move your teeth into their proper position.
Schedule an Appointment Today
If you would like to discuss any of our cosmetic dentistry treatments, then call Water's Edge Dental today. We serve patients in Port Orange, FL, as well as from the surrounding communities of Port Orange, Daytona Beach, Holly Hill, Edgewater, Ormond Beach, and the surrounding communities.