Single Tooth Replacement – Port Orange, FL
Close the Gap and Recomplete Your Smile
Some people who are missing a single tooth choose not to replace it. They may think that since they can still chew food without too much difficulty, there is no reason to fill in the gap. They might not be concerned about the aesthetic consequences of a missing tooth. However, even a single missing tooth can lead to severe problems. The adjacent teeth may begin to drift out of place, leading to a misaligned bite. The bone that once supported the missing tooth will deteriorate. Eventually, further tooth loss could occur. Fortunately, you can prevent such issues by having your dentist replace your missing tooth in South Daytona.
Single Tooth Replacement Options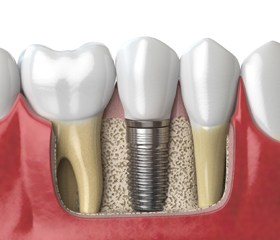 Our practice offers two different treatments that are capable of replacing a single missing tooth:
A fixed bridge, sometimes called crown and bridgework, is a prosthesis that uses the remaining natural teeth for support. Two crowns get placed over the abutment teeth (the teeth next to the empty space), and they support an artificial tooth that "bridges" the gap. Fixed bridges are a popular treatment option because they can prevent dental drift and restore full dental function. They are also relatively affordable.
A single tooth dental implant is a small titanium cylinder that gets surgically placed beneath the gum line in a minimally invasive procedure. Over time, the implant bonds with the bone around it in a process known as osseointegration. Once that bond is nice and strong, Dr. Bannan creates a custom crown that he attaches to the top of the implant. Thus, dental implants in South Daytona replace both the crowns and roots of missing teeth.
The Benefits of Implant-Supported Single Tooth Replacement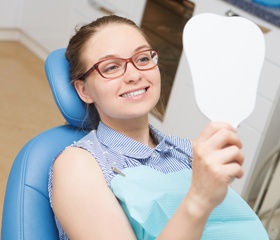 Either a fixed bridge or a dental implant can provide reliable, effective tooth replacement. However, we often recommend a dental implant as the superior solution because:
An implant preserves bone health. The implant acts like a tooth root and stimulates the jawbone. Without that stimulation, the bone will begin to deteriorate.
An implant looks and feels more natural. A well-made traditional fixed bridge can look good and feel comfortable. However, because an implant more closely mimics the structure of a real tooth, you can expect it to offer truly outstanding aesthetics and function.
An implant lasts longer. A fixed bridge may last for 10 years or so. A dental implant has the potential to last a lifetime.
An implant doesn't require the natural teeth to be modified. Placing a traditional bridge requires that we file down the abutment teeth in order to make room for the crowns. Since an implant is self-supporting, there is usually no need for the adjacent teeth to be modified.
An implant is easy to care for. You can treat your dental implant in almost the exact same way as you would treat a natural tooth.
Are you ready to replace your missing tooth with a dental implant? Contact Water's Edge Dental today to schedule your consultation with Dr. Bannan.