Full Dentures - Port Orange, FL
Providing Complete Smiles to Patients with Missing Teeth
If you have missing teeth and are looking for a solution that has stood the test of time, look no further than full dentures in Port Orange, FL. These tried and true restorations can improve your quality of life by giving you back the smile you once lost. Say goodbye to the embarrassment and low self-esteem that missing teeth can cause, and instead, say hello to a new and improved smile that looks and feels completely natural. At Water's Edge Dental, Dr. Bannan is equipped to provide you with a customized denture that is not only comfortable to wear but offers great functionality. To find out how you can get started on the path to a better smile, contact us today.
What Are Full Dentures?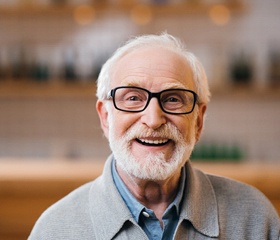 Full dentures are a custom-made restoration that is designed to replace all your teeth along the top or bottom row of your mouth. Completely removable for easy cleaning, full dentures are created according to a patient's individual measurements, which Dr. Bannan will retrieve upon examination of your oral structure.
How Do They Work?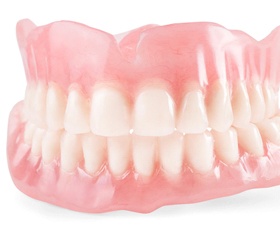 When having full dentures put into place, your natural suction is what will hold them in place. Should you require a bottom denture, it will be made in the shape of a horseshoe to allow room for your tongue. Its gum-colored base will sit on top of your gums. If you are in need of an upper denture, it will be made to fill the entire roof of your mouth.
Some patients find additional support and security with the use of dental adhesive, which can be placed on the base of the dentures.
Indications You May Need a Full Denture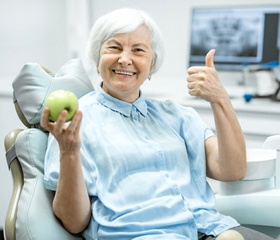 Swollen or red gums
Loose teeth
Missing teeth
Consistent toothaches
Benefits of Full Dentures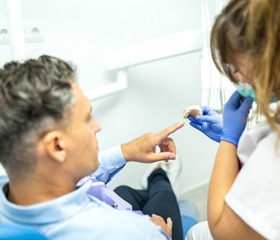 Although advancements in dentistry have made it possible for alternative methods of tooth replacement to evolve, dentures continue to stand toe-to-toe because of their affordability, effectiveness, and reliability. Not only will you receive a new lease on life with a full, complete smile, but you will get to take advantage of their other benefits, such as:
Improved appearance and increased confidence
No chance for decay to develop because your teeth are artificial
Easy to clean and maintain
Quicker to receive than alternative tooth replacement solutions
Much more affordable than dental implants
Long-lasting restoration
Cost of Full Dentures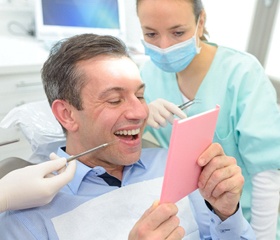 The cost of full dentures may vary depending on your individual case. Because each patient is different, there are various factors that can determine the overall cost, including:
Whether you need a top or bottom denture or both
If you require a tooth extraction prior to denture placement
Materials used
How much your insurance will agree to cover