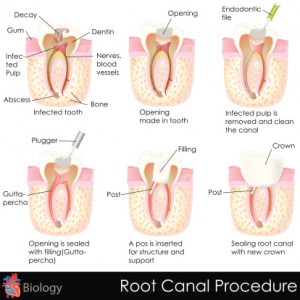 Oh, root canals; we wish you were more loved than you actually are. Being a part of the dental industry, we love every service and product that is offered. Why is that? Because we love bringing joy to people's lives through a beautiful smile. Healthy smiles are happy smiles, and happy smiles keep us loving our jobs. If we aren't making every patient feel their best after receiving treatment from our expert team, then we've done something very wrong. No matter which procedure a patient opts for, they can trust us to deliver an experience that will leave them smiling long after leaving the dental chair. One of the most contentious procedures for any patient has always been the dreaded root canal. Well, we're here to tell you that it's not the same treatment or horror story that was told to you even a decade ago. There have been plenty of advancements that have helped make the procedure much more comfortable and making the healing process a lot faster. Dr. Bannan offers gentle root canal treatment for all residents in Port Orange, FL, and wants you to know that we can rid your mouth of any dental issues.
"Why Do I Need A Root Canal In The First Place?"
Great question! Answer: cavities or infection. Any kind of infection isn't a good thing. In fact, if left untreated, it can become a major health risk. Much like the rest of the human body, any type of illness or disease can rummage through all of your internal systems if you don't do anything about it. Got the flu? You're told to take antibiotics and stay hydrated. In the case of dental infections, something must be done about it or else it can wreak havoc on the rest of your body. There have been several cases of fatal consequences due to patients either not receiving or choosing not to receive treatment for an infection. Please, don't do this. We repeat: PLEASE, DON'T DO THIS. You like living, right? We all do. It's very easy to keep your dental health in check and that's by coming to us for any infection-related problems.
Our root canal treatment is gentle and gets the job done right. Your root canal may be the result of several factors including cavities, gingivitis, or something else. Commonly, we see many cases of root canals being the result of cavities that either went unseen or didn't receive proper treatment. Don't be on the outside looking in when it comes to keeping your mouth healthy and happy.
Schedule A Root Canal Procedure With Us
If you think you may need a root canal procedure, don't hesitate to speak with our staff in Port Orange, FL. Our team is ready to alleviate any pain you might be experiencing and fix it with excellent care. We offer this service to our neighbors in Port Orange, Daytona Beach, Holy Hill, Edgewater, Ormond Beach and beyond.