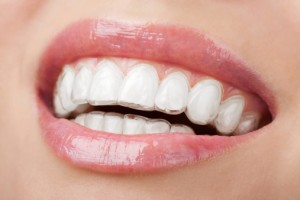 Everyone in the family portrait has a big smile, but you're standing in the back barely grinning. You find yourself putting a hand in front of your mouth as you talk, and when you look in the mirror, your smile quickly turns into a frown when you see your misaligned teeth. You are not alone. According to the National Health and Nutrition Examination Survey only 35% of adults in the US had a properly aligned bite. The remaining 65% of adults showed some form of malocclusion. A UK study of social media usage revealed that people were less likely to post photos of themselves, if they were unhappy with the appearance of their smile. Luckily for patients in Port Orange, FL, Water's Edge Dental can help you create a flawless smile you'll love to share. Dr. Sean Bannan and his knowledgeable team are ready to help you achieve your smile goals. Call to schedule an Invisalign consultation today or to find out more about our outstanding dental care services in Port Orange.
Top-Notch Invisalign, Port Orange
When you were a teen, it probably seemed difficult to imagine living through the humiliation of braces, retainers, and head gear just to straighten your teeth. As an adult, you realize that teenage you would have had it easy. Now, people expect you to look and behave professionally. That doesn't seem to include showing off a mouth full of metal, but you're starting to feel like it might not include crooked teeth either. The good news is innovations in dental care give you options besides traditional, metallic braces. A great choice for adults who want to correct their smile is the Invisalign clear braces system. It's quick, convenient, and inconspicuous, and there's no need to see an orthodontist. Your local dental care practitioner, Dr. Bannan can offer you top-notch bite correction in our convenient Port Orange office.
Patients interested in Invisalign should start by scheduling a consultation with Dr. Bannan and the Water's Edge Dental team. We'll examine your bite to determine whether Invisalign is the right bite correction option to meet your needs, schedule and budget. If you decide to proceed, 3D digital scans will be taken using our state-of-the-art digital imaging software. Impressions will be taken of your bite, and our trusted lab will create a system of clear, plastic alignment trays to gradually shift your teeth. All you have to do is wear your trays for about 2 weeks, and replace the old set with a new one. You'll visit our office about every 6 weeks to ensure your teeth are progressing according to plan. Within a year to 18 months, you'll have a beautiful, perfectly aligned smile.
Some benefits of Invisalign compared with other correction options:
Removable – No need to give up any of your favorite foods or change your oral hygiene routine. Simply remove your alignment trays during meals and while you brush and floss.
Less time – Compared to traditional braces, Invisalign generally takes less time to correct your teeth. Additionally, you'll need fewer office visits, so you won't need to worry about fitting us into your schedule.
Less pain – Patients often find Invisalign to be much more comfortable than traditional braces. Metallic wires, brackets and bands irritate soft tissue, and the pressure from teeth pulling against the wires causes more discomfort when compared to the gentle pressure of the plastic alignment trays.
Call Your Dentist, 32119
If you're hiding your smile, call Dr. Bannan and the Water's Edge Dental team today. We're here to help you create a flawless smile you can be proud to share with the world. Our practice welcomes patients from Port Orange as well as surrounding areas Holly Hill, Ormond Beach, Daytona Beach, Edgewater and beyond.