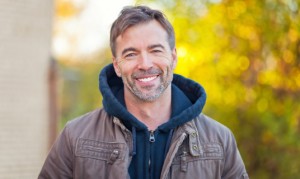 Missing teeth can be the absolute pits. It can leave your mouth reeling as well as invite all sorts of bacteria to throw a party. Bacteria parties aren't fun. Trust us, we've had to break up many bacteria parties inside several patients' mouths. In order to relieve yourself from the pain and discomfort that missing teeth provide, dental implants might be the solution that you're looking for. Missing teeth can cause all sorts of problems that you frankly don't want to endure. At Water's Edge Dental in Port Orange, FL, we can help you replace your missing teeth with top-quality dental implants that Dr. Sean Bannan can professionally place for you. Once our team is done taking care of you, your smile will look like a million dollars without having to spend anywhere near that amount. Are you ready to make your smile look brand new again? Dental implants may be just the thing you need.

See Your Smile In A Brand New Way
If you think missing teeth aren't a big problem, think again. Let's start with the cosmetic side of things. When you see someone smile, do they try to hide it or is it shown off in a proud way? Usually when someone smiles, they want you to see it. A beautiful smile is hard to not stare at. All those pretty white chompers and perfect alignment; it's easy to get jealous. Now think of a smile that's full of missing teeth; you can understand why someone would want to shy away from showing off their smile. We don't want you feeling like your smile is a detriment to your overall appearance, which is why we offer dental implants.
It's important to know why teeth go missing in the first place. It isn't some magical spell that's been cast on you or dumb luck; teeth go missing for several reasons and some are entirely preventive:
Cavities
Tooth decay
Injuries to the teeth
Gum disease
These aren't the only reasons why you're dealing with missing teeth, but they're the main culprits. It isn't so much that these ailments cause teeth to go missing immediately, it's that most people choose not to get treatment. No treatment translates to problems metastasizing. Infections need to be treated immediately as it not only puts your oral health at risk, but your entire well-being, too. Some infections have been known to be fatal, which is scary. All it takes is a visit to our office to rid yourself of the pain and discomfort of missing teeth and regain a smile that's beautiful and youthful.
See Us For An Appointment
Dr. Bannan is ready to give you the smile of your dreams with dental implants in Port Orange, FL. If you live in the surrounding areas of Holly Hill, Ormond Beach, Edgewater, Port Orange and beyond, we can provide you with the best dental implant procedure in Daytona Beach.