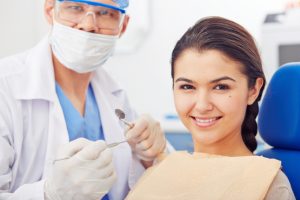 Save it, or pull it? When the question is about a tooth, the answer is save it if at all possible. Teeth damaged by big fillings, injury, abscess or congenital defect become like new with dental crowns from Water's Edge Dental in Port Orange.
What is a dental crown?
No more than the best in materials, diagnostics and workmanship–that's what patients of Dr. Sean Bannan find in their Port Orange dental crowns. An excellent alternative to tooth extraction, the dental crown, or cap, completely covers weakened tooth structure, providing beautiful aesthetics and durability.
Dr. Sean Bannan, your 32119 dentist,  recommends dental crowns to individuals who have one or more teeth:
That are heavily stained
Need their shape or configuration normalized
That have been injured and have cracks, chips or substantial loss of enamel
Which have big fillings, extensive decay or infection
That have undergone root canal therapy
Dr. Bannan uses an experienced dental lab for crafting of crowns made of metal alloy, gold, porcelain or porcelain fused to metal. He chooses the material based on how he will use the crown. For instance, gold dental crowns are very strong and work well on backmost teeth. Porcelain crowns may be placed anywhere in the mouth but are the treatment of choice for front teeth, while ceramic and metal caps often cover teeth holding a fixed bridge composed of one or more teeth in a row. A dental implant receives a porcelain crown to complete the topmost portion of this state of the art restoration.
The dental crown procedure
This specialized dental service takes 2 visits to Water's Edge Dental. Dr. Bannan examines the patient's mouth and takes digital x-rays to determine if a dental crown is appropriate.
If it is, he takes an oral impression to send to the outside dental lab where a technician fashions the crown according to Dr. Bannan's treatment plan. He also removes any decay and old filling material and shapes the tooth to receive the restoration. Usually, he puts a temporary crown on the prepared tooth to protect it and to normalize chewing and aesthetics.
During the return dental visit, Dr. Bannan bonds the crown in place. He ensures that top and bottom teeth bite together correctly.
Aftercare
Dental crowns last 7 to 10 years and beyond when patients brush and floss daily. They see Dr. Bannan every 6 months for routine exams and cleanings, too. Best of all, dental crowns restore damaged teeth to full function and brilliance, avoiding unnecessary extractions and the gum and bone loss that follows tooth loss.
Are you a candidate for a crown?
Ask your 32119 dentist, Dr. Sean Bannan, if a dental crown can help your tooth. Contact Water's Edge Dental today to schedule your restorative dentistry appointment.