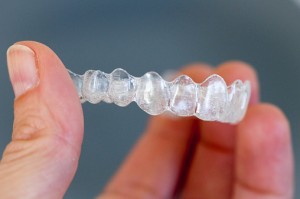 If you missed the opportunity to have braces when you were a child, then don't think your time has passed. Even though you are all grown up, you can still have straight teeth. But now, no one other than your dentist and you needs to know you're wearing braces. Invisalign is an orthodontic system that uses clear plastic aligners to straighten teeth. Dr. Sean Bannan at Water's Edge Dental in Port Orange, FL, is an Invisalign Provider who can give you the beautifully straight smile you've always wanted.
And if you act now, you can save $500 on your Invisalign treatment from Water's Edge Dental! Click here.
Invisalign Consultation
The first step toward a smile with straight teeth is a consultation with Dr. Bannan. At this meeting, you'll talk about your smile goals and Dr. Bannan will explain the Invisalign process. That process begins with x-rays, photographs and impressions of your teeth. These are sent off to the Invisalign lab, which uses them to create a 3D image of your teeth. With this image, Dr. Bannan develops a treatment plan that will show you how your teeth will move and what your smile will look like when treatment is completed.
Invisalign will use this same plan as a blueprint for fabricating your customized aligners, which are made of clear, BPA-free plastic. They're comfortable and, as the name Invisalign implies, they're almost invisible. Your aligners are arranged in a series of sets. You'll wear each set all day every day, except when you want to eat or when it's time to brush and floss your teeth. After two weeks, you'll move on to the next set. As you progress through the series, you'll observe your teeth gradually move into position. Of course, Dr. Bannan will want to see you periodically during your treatment. After about 12 to 18 months, you'll come to your last set of aligners. Then, the smile you see will be the straight smile you've always wanted.
Schedule an Appointment Today
Take advantage of our offer to save $500 on Invisalign by calling Water's Edge Dental today to schedule a consultation. We proudly serve patients in Port Orange, FL, as well as Port Orange, Daytona Beach, Holly Hill, Edgewater, Ormond Beach, and the surrounding communities.